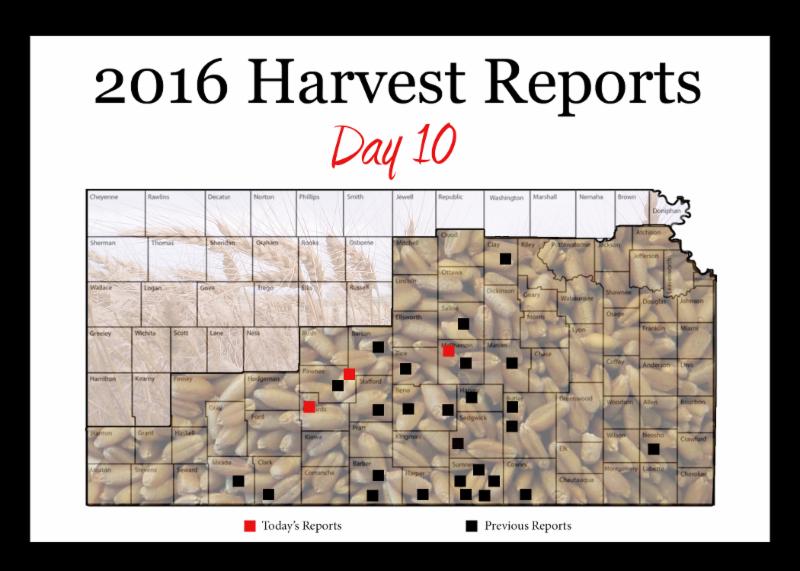 Combines have continued to roll across Kansas and the heat continues to rise. According to the 2016 Kansas Wheat Report, farmers are starting to wrap up in the southern parts of Kansas while harvest has yet to appear in the state's northern region.
Bobby Ehrlich, manager of the Skyland Grain LLC location in Preston, said that his location took in the first load of wheat on June 8, and that he hopes the location will be wrapped up with harvest by Monday. The test weights started off ranging from 62-63 pounds per bushel, but have fallen slightly, to around 60 pounds per bushel after this weekend's rains.

Mike Schmidt with Pride Ag Resources in Dodge City reported that harvest is 25% complete across the company's 15 locations. Protein content has been highly variable across the locations, with ranges from below average to some samples reaching 13 percent. Test weights have averaged out so far at 60 pounds per bushel. Schmidt said that yields on continuous wheat have ranged from 40-60 bushels an acre, and acres emerging from summer fallow are yielding even higher. "We think this is going to be a record volume for us," said Schmidt. "That's nothing to do with acreage. 1998 would have been really the last comparable year in terms of volume, but the acreage was also much higher twenty years ago. That speaks volumes on how the genetics have gotten better."

Bart Parks, a farmer from Johnson, said that his wheat has been very clean this year. He started harvesting on Saturday, and so far his yields have been 5-15 bushels an acre better than he had expected. "We've had around 30-35 bushels an acre for around the last six years," said Parks. "This year we will probably double that." Parks is expecting to be done in a little over two weeks. So far the lowest test weight that he has seen has been in his first field, which was 59 pounds per bushel. The rest that he has cut has been pushing 65 pounds per bushel.
The 2016 Kansas Wheat Harvest Reports are brought to you by the Kansas Wheat Commission, Kansas Association of Wheat Growers and the Kansas Grain and Feed Association.
---