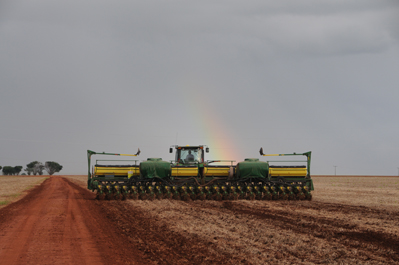 A combination of weather factors in South America has analysts wondering how much corn will get double-cropped behind soybeans in places such as Brazil and Argentina, explains Ted Seifried, Zaner Ag Hedge Group. Prolonged planting delays for soybeans might mean more producers simply plant soybeans behind soybeans.

"Certain portions of southern Brazil and Argentina are too wet, though those areas will very likely get their crops in," Seifried tells the Agribusiness Update on "AgDay." "It's the northern area of Brazil, or the northern center swath of Brazil, that is too dry at the moment. We're concerned about planting there. … The rain hasn't come yet, it should have come maybe a little bit earlier. It will come, very likely … that high pressure is breaking up and allowing for some more rain next week, so we're hoping for some progress there. But if that situation were to drag out, the concern would be the double crop."
Lagging fertilizer sales for corn are one indicator of the challenges South American farmers face.
"They're really very low, a lot lower than they were this time last year," Seifried says. "I think that correlates very much with the fact that planting is on delay. If we get planted in a somewhat reasonable fashion, in the next couple of weeks, then I think you do see producers get ready for corn as a double crop. If not, you might see soybeans again."
Click the play button below to watch the complete "AgDay" Agribusiness Update.
---
Want more? AgWeb readers are sharing fresh marketing insights every day. Click here to join the conversation or to start your own.