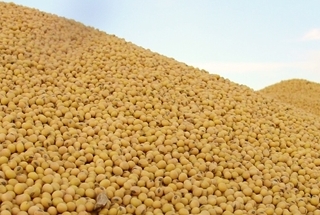 Soybeans rebounded from a four-year low amid speculation the price slide will prompt purchasing by China, the biggest buyer.
China may import 76 million metric tons of soybeans in 2014-15, Cargill Investments (China) Ltd.'s head of oilseed trading said yesterday, more than a U.S. government estimate of 74 million tons. September purchases may reach 4.98 million tons from 6.03 million tons a month earlier, China's commerce ministry said Sept. 17.
Soybeans for November delivery rose 0.5 percent to $9.4275 a bushel on the Chicago Board of Trade by 5:33 a.m. after earlier dropping to as low as $9.31, the lowest since July 2010. The oilseed tumbled 28 percent in the past year on the outlook for record production in the U.S., the top grower.
"There's a lot of mixed messages coming in on what the underlying demand is going to be from China," Wayne Gordon, a commodity analyst at UBS AG in Singapore, said by phone today. "That's key because we really have the soybean crop set to be harvested in the U.S. and the Brazilians are increasing area."
The 14-day relative-strength index was below 30 for a fourth day, a level considered by some traders to indicate that a security is oversold and may be set for a rebound.
Members of a delegation from China signed memorandums with U.S. exporters on Sept. 15 to buy 4.8 million tons after annual negotiations in Milwaukee. Farmers in Brazil may harvest 31.5 million hectares (77.8 million acres) of soybeans in 2014-2015 from 30.1 million hectares a year earlier, the USDA estimates. Brazil is the world's second-biggest producer, USDA data show.
Record Harvest
U.S. soybean output may climb to a record 3.913 billion bushels and the corn crop will reach an all-time high of 14.395 billion bushels, the USDA said Sept. 11. Farmers collected 7 percent of corn and 3 percent of soybeans as of Sept. 21, the USDA said yesterday in the weekly crop progress report, including its first assessment of the soybean harvest pace.
Wheat for December delivery rose 0.2 percent to $4.775 a bushel, after futures dropped to $4.695 yesterday, the lowest since June 2010, before closing 0.5 percent higher. Milling wheat for November delivery traded on Euronext in Paris fell 0.5 percent to 150.50 euros ($193.86) a ton.
Corn for delivery in December was unchanged at $3.3025 a bushel, rebounding from an earlier 0.8 percent drop. Prices touched $3.2675 yesterday, the lowest since June 2010.