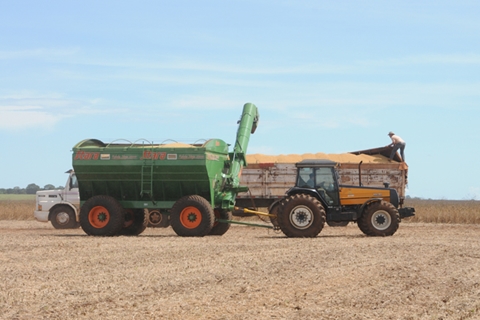 While the East Coast braced for a historic snowstorm Monday, the commodity markets instead focused on the weather patterns affecting crops in North and South America.
In wheat, prices dipped between 6 and almost 10 cents on the prospect of precipitation, falling to $5.242 for May futures. "Wheat was … pressured by a favorable forecast for U.S. winter wheat areas," said Brian Grete of Pro Farmer.  "Forecasts call for rains through areas of the Plains that received snowfall last week
Listen to Grete's full comments on the day's crop and livestock markets here.
In South America, it's the lack of rain during this growing stage that matters. With higher than expected export inspections and questionable weather, soybean futures climbed up than 10 cents on Monday  to  end at $9.96 for July futures. "The Brazilian forecast was also price supportive as the drier areas are likely to see little moisture relief this week," Grete said. "Rains are forecasted to be spotty, and temps will remain above normal in central Brazil."
See what other farmers think about the markets on AgWeb's discussion boards.