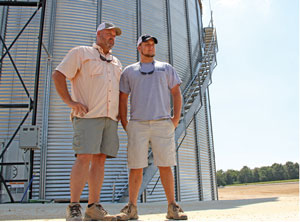 Pod-heavy fields a marriage of research and farmer innovation
Soybean yields are jumping in the South—a bountiful mix of the art of farming and the fruit of science.

The Grow for the Green Soybean Yield Contest, with more than 100 participants in the past two years, is far more than a friendly competition between Arkansas growers. It's also a conduit to better farming practices and a testament to the efficacy of research and checkoff funds. 

After years as a stepchild crop in the mid-South, farmers are putting soybeans on productive ground and pushing hard, resulting in pod-laden fields. Following the adage that "good ground is good ground," mid-South soybean production has moved toward earlier maturing varieties on alluvial-type cotton soils. 

"When cotton acreage started dropping, most of the guys were putting that land into corn. We're now seeing guys going to what I call a Midwestern cropping system of corn–soybeans," says Lanny Ashlock, with the Arkansas Soybean Promotion Board (ASPB) outreach. "Growers are getting yields equivalent or even surpassing Midwest yields. Most of these good yields we're seeing are coming on rotation of soybeans and corn."

Matt Miles has pulled a soybean double—eclipsing 100 bu. per acre for a second successive year in the Grow for the Green challenge. After averaging 107.63 bu. in 2013, the McGehee, Ark.,farmer planted Pioneer 45T11 and hit 100.609 bu. on Sept. 10, 2014. 

Keeping it in the family, Miles' 2014 yield mark was then broken by his wife, Sherrie Kay Miles, a week later, when she harvested Pioneer 48T53R soybeans for a 106.499 bu. per acre yield on Sept. 18. Despite the bin-busting success of the husband-and-wife team, David Bennett, Lake Village, Ark., set an all-time state record of 112.02 bu. per acre in 2014 with Asgrow 4632. 

"Farmers take these techniques learned in the contest and go on to use them on every acre possible and turn these contest methods into ways of successful farming," Ashlock says.

To participate in the Grow for the Green program, each grower enters a five-acre plot in the contest. Three certifying agents are present in each field as harvest takes place to verify yield and area. The final tale of the tape comes at the elevator; agents certify a truck belongs to a given farmer and follow it the elevator.

Prize money is derived from check-off funds, and in return, the board gets back vital agronomic data. The winning producers detail specific growing practices, and the information is made public for all growers.

"Missouri's Kip Cullers really woke up the soybean world. If you want to look at a single event that got people excited, it was Kip Cullers breaking the yield barrier. We had to ask ourselves how much we were leaving in the field, and what was he doing differently?" Ashlock says.
Like many growers, Miles was blessed with plenty of rain—maybe too much rain. With heavy precipitation early in the season, cooler nighttime temperatures held back his soybeans and in a few fields, full emergence took three weeks. Miles is typically on a seven-day irrigation schedule, and all his fields are on PHAUCET (Pipe Hole and Universal Crown Evaluation Tool) irrigation. 

Miles' 100-bu. soybeans weren't planted on his best ground, but it was his best ground not in corn. Even with soybean success, Miles favorite crop is corn. Grain prices will weigh heavy on his 2015 planting decisions. 

"I'm hoping corn comes back, and I'll follow this bean crop with corn, but it depends on the price. In fact, I might just go with wall-to-wall beans because of corn prices."
Grow for the Green puts producers on a tough learning curve and brings out the natural competitive fire of farmers. "It's pretty serious for me to pull a combine out of a buckshot field and move it into a contest field to harvest before a rain," Miles says.

In 2013, Nelson Crow, Winchester, Ark., put his stamp on Arkansas agriculture as the first farmer to pass the 100-bu. barrier—breaking it with 3.9-maturity Pioneer 93Y92 at 100.78 bu. Crow has high praise for the yield contest and says it has "at least doubled my knowledge of soybeans." Since then, he has been bombarded with questions on how to manage 3.9-maturity beans.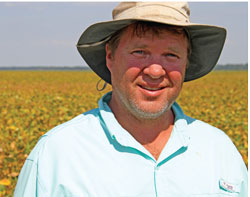 As the first Arkansas farmer to break the 100-bu. barrier, Nelson Crow, Winchester, Ark., claimed a permanent spot in the ag record books in 2013.
"You've got to be quick with the water and can't back up on 3.9 beans. They do like water," he explains.

Crow also makes it clear soybeans are no longer an afterthought crop. "Soybeans have come out of the closet," he says. "We're all pushing these beans, finding what they can do, and trying different things. This is really new territory."

The monetary awards offered by Grow for the Green are a nice incentive, but growers such as Miles and Crow are pushed by a strong desire to strive for better farming. Ashlock believes the expanding yields are validating research recommendations and attributes them to a mix of factors. 
"We're getting a combination of improvements in genetics, tillage, irrigation and management. High yields relate to timing, management, early-maturing varieties and minimizing stress," Ashlock says.

Grow for the Green—and numerous other statewide yield contests—bring out the camaraderie of agriculture and offers a bit of fun despite the high-stress environment of harvest. On a small plot, farmers try out innovative techniques in a host of agronomic areas—based on research, word-of-mouth and intuition—and look for a crop response to improve their operation. Those techniques are leading to better farming methods and higher overall yields. 

"Farmers work so hard, and the soybean contest offers an outlet and results," Ashlock says. "This is no simple contest; it's truly yield, profit and research related." 
---
Six Tips to 100-Bu. Soybeans
Producing bin-busting soybean yields involves an army of variables. Arkansas farmer Matt Miles has found a winning formula that includes these six factors:

1. Factors beyond your control. "God has to provide normal to low nighttime temperatures."

2. Fertility is vital. "Make sure you have the right nutrients according to your soils and recommendations to produce soybean yields that top 90 bu. and 100 bu."

3. Timing. "When you use an input—nitrogen, water or fungicide—it absolutely must be applied at the proper time."

4. Variety choice. "Plant a variety that has proven to produce high yields elsewhere."

5. Boots on the ground. "You must be a shadow in your field during growing season or at least have a consultant looking at the crop weekly. If you find a deficiency too late, you can't fix it."

6. Teamwork. "Good employees who care about what they're doing are essential. If you want success, you'll need others to help you."