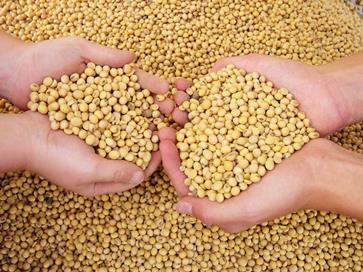 Soybean meal advanced to a four- month high as meat prices close to a record spurred demand for animal feed to fatten hogs and chickens.
Futures rose as much as 6.1 percent to $399.80 per 2,000 pounds on the Chicago Board of Trade, the highest since June 23, before trading at $388.70 at 6:30 a.m. local time. Prices jumped 7.6 percent yesterday, the most since 2007.
Wholesale pork, chicken and beef prices have climbed to records this year, contributing to an October rally in soybeans, meal and grains used to feed livestock. Retail pork chops and bacon increased to all-time highs in 2014 after the hog herd was reduced by a deadly virus. About 42 percent of U.S. soybean production is made into food for animals.
"Meat and dairy producers need the product," Richard Feltes, the vice president of research at R.J. O'Brien & Associates in Chicago, said by phone. "Farmer selling of soybeans is less than both exporters and processors need, and that's building a bid in the market to pry loose more bushels."
Soybean meal surged 13 percent in the two weeks ended Oct. 24, the most since late August 2013. The price touched a 33- month low of $295.10 on Oct. 1.
Soybeans increased as much as 2.8 percent to $10.41 a bushel today, the highest level since Aug. 22, after the U.S. said yesterday that exports for inspection climbed for a record eighth week from the U.S., the world's top producer. Reserves from last year's crop have dropped to the lowest since 1973, government data showed this month.

Export Inspections
Futures rose 3.3 percent last week, the most since late May and the fourth straight gain, the longest run in 13 months.
Soybeans inspected for export increased 8.5 percent to 2.2 million metric tons in the week ended Oct. 23 from a week earlier, the highest in 11 months, the U.S. government said.
The October rally in soybean and meal prices pared losses spurred by the outlook for record-high U.S. oilseed output. The government has said that the crop will rise 17 percent to 3.927 billion bushels from last season.
Soybeans have dropped 20 percent this year and meal futures declined 6.7 percent. Cattle prices climbed to a record $1.70 a pound on Oct. 23 while hogs reached an all-time high of $1.33425 a pound on March 18.