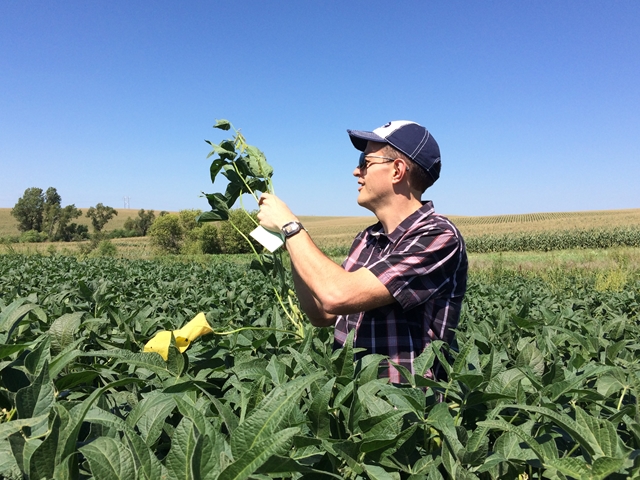 Surging soybean prices lifted corn and wheat Tuesday on concern over a lagging soybean harvest and delayed maturity. Analysts say speculative funds also could be helping to drive the rally.
"As wet weather continues to be a challenge, slower progress means slower arrival of new soybeans into a pipeline that grows more anxious by the day for their arrival," says Mike North, President, Commodity Risk Management Group, in Platteville, Wis.
In early CBOT trading Tuesday, November soybeans rose 17 cents to $ 98.9'4, and December soybean oil jumped 97 cents to $34.05 December corn and wheat also saw gains. December corn rose 3'2 cents at $3.40'4, while December Chicago SRW wheat increased 2 cents to $4.06.  December Kansas City HRW wheat rose 1 cent to $4.17'4.
Analysts suggested that the soybean rally could also be influenced by speculative funds.
"Soybeans are the leader in this current rally and fund managers are well aware of robust global demand for soybeans, driven by both global soy oil and soy meal demand," says Arlan  Suderman, chief commodities economist for Intl IF Stone.
The increase in soybean prices was high enough to push up everything else,  despite a global glut of wheat, analysts say.
"We will likely remain under burdensome wheat supplies for some time, but the news traders see is focused more on dryness in Ukraine and Argentina and excessive moisture in Canada," says Suderman.  "It's a shift in the news cycle."
Other analysts agree.
"Corn and wheat are just followers of soybeans," says DuWayne Bosse, of Bolt Marketing, in Britton, S.D.
Concern over wetter weather and delayed harvests in Iowa, Minnesota, and into North Dakota and South Dakota were pushing up prices, according to Bosse, who adds that flow of "outside money" looking for a place to invest could be helping to drive up prices.
A similar scenario with soybeans played out in October of 2014, when reserves were shy of 100 million bushels and half of what they are today, North notes.
"Just as important to this conversation is the hunger of demand," he says. "If exports cool from the feverish pace set throughout the year, the delays in harvest carry less consequence."