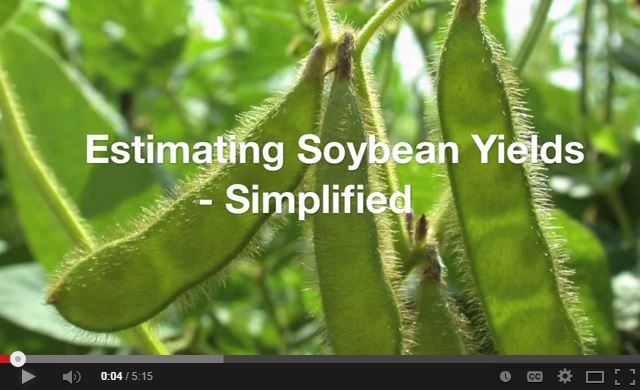 Soybean sampling doesn't have to be overly difficult. You just have to remember "21." Shaun Casteel, assistant professor of agronomy at Purdue University, explains.
"Twenty-one inches on a 30-inch row is one ten-thousandth of an acre," he says. "Twenty-one inches with two 15-inch rows is also one ten-thousandth of an acre. And if you look at 7.5-inch drilled beans, 21 inches with four rows is the same area – one ten-thousandth of an acre."
The first step is to gather plants from a representative area of the field. Casteel says the system is most reliable when there are eight or more plants in the 21-inch sample area.
"If you have seven or fewer plants, then you need to take multiple areas to increase the confidence in that yield estimate," he says.
After the plants have been gathered, it's time to count the number of pods. Multiply that number by 2.5 ("a good estimate for seeds per pod"), then divide by 18 (the seed size factor when dealing with a typical-sized seed of 3,000 per lb.). Seeds per pod and seed size ratings can be adjusted as needed, Casteel adds.
In the video below, Casteel gives a live, step-by-step demonstration of the process.
 For additional information, visit http://extension.entm.purdue.edu/pestcrop/2014/issue19/index.html#estimating