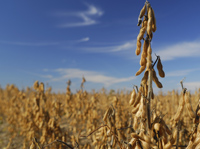 Yet clues found on annual tour suggest opportunities exist for higher yields per acre
Over the years, the Pro Farmer Midwest Crop Tour has helped identify production missteps that are corrected with time. In corn fields, inconsistent ear-set that became a major issue in the late 1990s gave way to better plant stands and emergence with the arrival of finely tuned planters and improved management.

More difficult to pinpoint are factors that don't change. After all, lack of progress can hold back yield. Many Midwest farmers have been discouraged with their inability to boost soybean yields. 

Don't count Nebraska growers in that group. They have seen mini-surges in soybean yields tied to improved genetics, and producers have tweaked production practices to consistently beat other state average yields by a wide margin. 

Still, many are searching for the factor that will push soybean yields over the top. Timing has made the difference in Nebraska, where irrigators have figured out how to coax soybean plants to set pods with a little stress. Then they give them a drink to hold onto pods. Next, pivots sit idle, waiting for the right time. Farmers give soybeans a big drink to fill pods, building bigger soybeans. 

Soybean data from other parts of the country also offer clues. We've discovered soybeans in the western Corn Belt are bigger than soybeans east of the Mississippi almost every year. 

We use our calculations to determine how many bushels of soybeans are produced per 1,000 pods in a 3'X3' square. We can trust this analysis because we know pods in each state will average about 2.5 beans per pod.

Consider a few examples. In 2013, Ohio had a respectable soybean yield of 49 bushels per acre. The state sported the highest average number of pods in a 3'X3' square of 1,284 for a ratio of 38.16 bu. per 1,000 pods. Meanwhile, Nebraska had a monster soybean yield of 53 bushels per acre. It sported a mid-range pod count of 1,139 for a ratio of 46.53 bu. per 1,000 pods.

Translation? Bigger soybeans in Nebraska trumped those in Ohio, producing 8.37 bushels more per 1,000 pods. Although Ohio had the highest number of pods in a 3'X3' square, it also had the lowest conversion of pods-to-yield.

Elsewhere in the Midwest, clues on the 2013 tour reveal the effects of rain in late August for Iowa and Minnesota soybeans. An extra couple of frost-free weeks on the end of the growing season also made a difference. Those states had the lowest pod count in a 3'X3' square, with Iowa at 927.3 pods and Minnesota at 869.4. Added soybean weight resulted in respectable yields of 44.5 bu. per acre and 41 bu. per acre, respectively.

Future production gains will be measured against the crop of 2009, when the record national average soybean yield was established. That year, the number of bushels per 1,000 pods grew consistently from east to west. 

It's hard to say exactly why soybean size is blocking the path to bigger yields in the eastern Corn Belt. Growing conditions, differences in day length and late-season rainfall all likely have an influence. Farming practices matter, too. Western Corn Belt soybean rows are wider on average than eastern Corn Belt soybean rows. Whatever it takes, producers should follow Crop Tour for clues that might help them break through the yield roadblock.