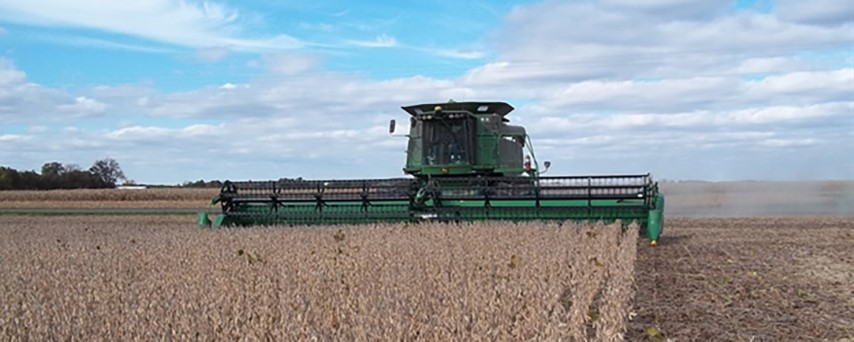 Minnesota farmer Bob Worth has sold most of his soybeans on bets the biggest rally in five years is about to end.
With futures up as much as 19 percent this year, Worth unloaded 75 percent of the crop he is growing on 1,100 of his 2,300 acres that won't be collected until September and locked in prices for half his 2015 harvest, 15 months from now.
"We sold it when it was profitable because we don't know how low it may go," the 61-year-old farmer said by telephone from Lake Benton, Minnesota.
Production in the U.S., the world's largest grower, will jump 10 percent this year to an all-time high of 3.631 billion bushels, and inventories before the 2015 harvest will be double a year earlier, a Bloomberg survey of 25 analysts showed. Macquarie Group Ltd. said soybeans may drop 15 percent to $10.50 a bushel, cutting feed costs for cattle, hog and poultry producers that are boosting output because of high meat prices.
"It's a major shift to excessive supplies," said Bill Gary, the president of Commodity Information Systems Inc. in Oklahoma City, who has worked in grain markets since 1960 and expects prices to drop below $10 during the harvest. "The rate of soybean usage is starting to level off, and production is ramping up. We will have too much."
Planting Gain
Planting of soybeans expanded this year as a slump in corn prices encouraged farmers to switch crops. Demand also surged for soy-based livestock feed, particularly from Chinese hog producers, which will leave U.S. inventories on Sept. 1 at 127 million bushels, or 3.8 percent of domestic use and exports, the lowest since before 1965, the Bloomberg survey showed. Once the 2014 crop is collected, stockpiles before the 2015 harvest will jump to 319 million, according to the survey.
The U.S. Department of Agriculture will update its estimates of supply and demand tomorrow at noon in Washington.
Soybean futures for July delivery are up 16 percent this year to $14.625 on the Chicago Board of Trade, the most to start a year since 2009, and July soybean meal gained 21 percent to $484.50 per 2,000 pounds. Over the same period, the Standard & Poor's GSCI Spot Index of 24 commodities rose 2.4 percent, the MSCI All-Country World Index of equities advanced 4.5 percent, and the Bloomberg Treasury Bond Index is up 2.7 percent.
Speculators are becoming less bullish on soybeans, cutting their net-long positions to 104,150 futures and options contracts, down more than half from 208,493 on March 4, government data show. Short positions, or bets on lower prices, are the highest since August, and futures for November delivery, after the harvest, traded at $12.295, a discount to the July contract of $2.33, almost double what it was Jan. 2.
Record Crops
Cheaper soybeans will help livestock producers already benefiting from corn prices that are about 19 percent lower than a year ago. Most animals are fed a mix of both crops until they are large enough to be slaughtered, and U.S. farmers are expected to produce a record corn crop for a second straight year, to 13.94 billion bushels, the Bloomberg survey showed.
Cal-Maine Foods Inc., the largest U.S. producer of shell eggs and a supplier to Wal-Mart Stores Inc., estimates corn and soybean meal account for 65 percent of its cost of maintaining 32 million laying hens. Spending on feed during the three months ended March 1 was 45.9 cent per dozen eggs, down from 54.7 cents a year earlier, even with higher soy-meal prices, the Jackson, Mississippi-based company said.
"If we get good weather and we hit the yields that have been projected by both USDA and some of the private services, we should have adequate supplies of both corn and soybean once this year's crop is harvested," Timothy A. Dawson, the chief financial officer, said at a June 3 conference in New York.
Tight Supply
With much of the U.S. crop three months from being harvested in the Midwest, there's still time for output to be hurt by dry weather. Societe Generale SA said in a report on June 4 that the U.S. government is overly optimistic about production and that demand will top estimates. The Paris-based bank raised its fourth-quarter price forecast to $13.66.
"Demand for soybeans and soybean meal continues to be strong both in the U.S. and in the export market," SocGen analysts led by Michael Haigh, the head of commodities research, said in the report. "Despite increasing South American supplies, we see a much tighter inventory picture."
While U.S. supplies are tight, output will be a record for a second straight year in South America, including an all-time high of 87.5 million metric tons in Brazil, the top exporter, USDA data show. World production may rise 6.1 percent to 301.2 million tons in the 12 months ending in July 2015, which would include crops that South American growers start planting in October, Hamburg-based researcher Oil World said June 3.
World Surplus
Global stockpiles on Aug. 31, 2015, probably will rise to a record 81.98 million tons from 66.79 million expected this year, a Bloomberg survey showed. That's equal to more than 29 percent of estimated use, up from about 21 percent in 2012, when futures reached a record $17.89.
"The U.S. could lose 200 million bushels of production without significantly tightening the world inventory," said Chris Gadd, an analyst for Macquarie Group in London.
Ron Moore, 58, who farms 2,100 acres near Roseville, Illinois, planted the most soybeans in five years because it cost $200 less per acre to grow than corn. With the drop in grain prices this year, soybeans will earn $100 more per acre, ending a seven-year profit edge for corn, he said.
"Soybeans were a better economic choice," Moore said. "Farmers are simply responding to the economic incentives of the market."