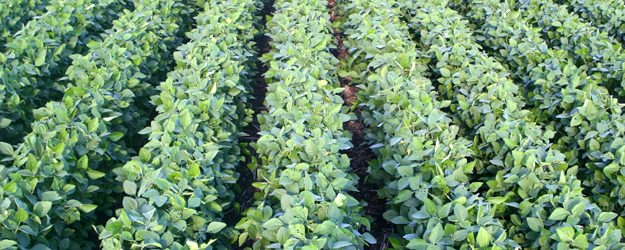 Climbing
soybean prices
since January could draw some acreage away from corn and push double cropping higher on wheat ground.
"Our analysis from Purdue says we're in the unusual circumstance where growing soybeans may pay more than producing corn," says Corinne Alexander, ag economist at Purdue University.
November soybean futures were trading at about $13.60 and December corn futures were trading at about $5.35 when she made that comment.
May futures reached as high as $15.09 on April 27. Soybean futures haven't been that strong in about four years.
Alexander declines to predict how long the lofty soybean prices could continue. Outside market factors like European debt and China's economic performance create too many uncertainties beyond soybean market fundamentals.
South American Crops
In this month's supply-demand report, USDA analysts cut their crop estimate to 66 million metric tons in Brazil, down from 75 million projected in December. They estimated Argentina's crop at 45 million metric tons, down from 52 million in December.
Private analysts have been expecting further cuts in South American crop estimates, and threats that freezing weather could damage beans still standing in Argentine fields helped drive old-crop futures up this week. Bloomberg reported April 27 that Rabobank analysts estimated the harvest may go down to 65.3 million tons in Brazil and 43 million in Argentina.
Planting Signals
"Farmers always want to plant a lot of corn," said Alexander. But the huge gains in soybean prices relative to corn prices this year are encouraging them to plant more soybeans.
"The strong soybean prices are sending signals to Brazilian and Argentine producers too," she said. "So next year, if they get good yields their crop will put downward pressure on soybeans."
Late to Shift
Despite this spring's prices, Scott Stiles, a University of Arkansas ag economist, doesn't expect many acres to shift from intentions.
He reasons that producers in the Midwest made heavy nitrogen applications last fall. Seed suppliers press growers to make seed decisions in the fall. He adds that crop insurance guarantees are much better for corn than for soybeans.
Stiles also sees limited prospects for increased soybean acreage from double-cropping on eastern Corn Belt wheat acreage. Soft red wheat plants in Illinois, India, and Ohio fell from last year, and much of that land may go into corn.
"We thought rice acreage would be down some more, but if we can plant a rice crop early the guys will plant rice," says Stiles. Rice futures have been up from a year ago and the new-crop basis is strong.
The global soybean balance sheet is as tight as it was in 2008, added Stiles. Strong prices will attract South American soybean acreage this fall, he said, but "The tight supply won't be resolved until 2013."
---
Related Video Report :
Bryan Doherty shares marketing methods that farmers can use to take maximum advantage of strong soybean prices.
---