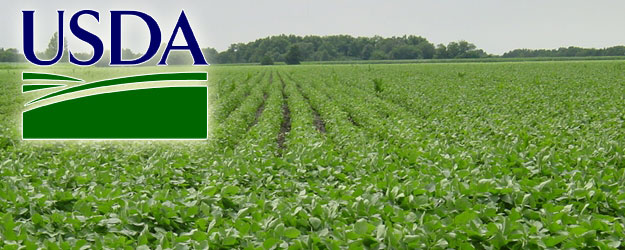 Corn and soybeans prices plunged in the wake of USDA's Acreage report, released Monday, June 30, that showed USDA expects soybean acreage—both planted and harvested—to shatter all records.
"We saw heavy selling right out of the gate," says Jonah Ford, senior analyst with Ceres Hedge in Schererville, Ind. "The November soybean contract could slide under $11 pretty easily." Ford was the commentator on a MGEX post-report press call.
"We may have seen a top in beans," says Ford. "This could be the beginning of a pretty steep downturn going into harvest."
That said, if widespread adverse weather develops, prices could move higher. But for now, Ford says, the only bullish case that can be made for soybeans and corn following this report is that prices in the livestock sectors are high, which should help support feed prices.
Acres Up 11%
Soybean planted area for 2014 is estimated at a record-high 84.8 million acres, up 11% from last year. USDA's forecast is well above the average trade estimate of 82.154 million acres and above the range of estimates of 80.5 million to 84 million acres.
"Given where the market is standing and the weather conditions, this was the natural slide, everything went toward beans," says Chad Hart, agricultural economist with Iowa State University. "It's going to crush prices for awhile."
USDA also provided its first estimate of harvested acres at 84.1 million, up 11% from 2013. If realized, harvested acres would be a record high by more than 7.4 million acres, notes USDA.
"Even with drowned-out acres, we're talking well over 80 million acres harvested," says Hart.
Ending stocks of soybeans in 2015 could build rapidly. With a presumed average yield of 40 acres per bushel and 7 million to 8 million more harvested acres, producers could harvest 280 million bushels more than they ever have before, says Hart.
"That's a heck of a lot of additional bushels even with greater demand we have ever had," Hart adds.
USDA forecast planted acres in Michigan, Minnesota, Nebraska, New York, North Dakota, Ohio, Pennsylvania, South Dakota and Wisconsin all at record-highs.
Corn Crop Also Huge
Expected corn plantings of 91.6 million acres were down 4% from last year and the lowest planted acreage in the United States since 2010. This year's corn plantings, however, would still be the fifth largest on record since 1944.
"We have a big crop with a lot of carryover," says Ford. "But corn is already beat up."
Corn prices have been factoring in a huge 2014-15 corn crop for the past few months.
"I'm not in the $2 camp for corn," Ford adds.
Estimated corn plantings were slightly lower than the pre-report average trade estimate of 91.735 million acres.