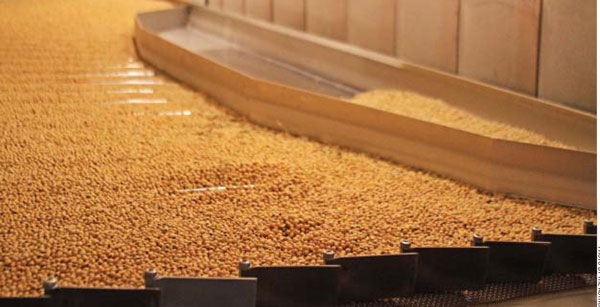 Learn how your soybean seed is made
Inside your soybean bag or bulk bin lies many months of planning, complex logistics and cutting-edge technology. Unlike corn, soybean seed cannot be carried over from one planting season to the next, so companies must manage risk at each step of the process to prevent production hiccups and meet farmers' needs.

Not all soybeans are created equal, in terms of where they can be grown. "You have to match soybean seeds to their growing region," says Corey Zindel, DuPont Pioneer production location manager in Cherokee, Iowa. Soybeans are bred to adapt to growing conditions in a narrow geographic range, known as a maturity group. Therefore, the vast majority of seed soybeans are produced in the U.S., within the maturity group they will be planted in the following year.

Companies contract with local growers to produce a specific amount of bushels of seed of specific varieties. "We look for fields that are high-quality, have proper drainage and fertilization," Zindel says. 

Seed soybean fields have the same yield expectations as commercial fields. Chuck Hansen, Stine Seeds soybean product manager, says the goal is to fit soybean varieties with a farmer's normal production system. "We want a farmer to match up entire fields with storage capacity," Hansen says. Then, the contamination risk of mixing varieties is reduced.

Farmers harvest the seed and store it in their own facilities until companies request delivery to their processing plants. Postharvest, Hansen says, a series of tests are done to ensure consistency and quality. Growers receive the current market price, as well as a premium based on seed quality.

Countless challenges. "Wet weather is usually the biggest problem," says Jim Herr, processing, inventory and wholesale manager at Beck's Hybrids. "It is actually better to have delayed planting in soybeans than it is to have them in the ground and lose them, as you may not have the seedstock available to try again." 

Dry conditions at harvest are also a concern, as low seed moisture can make seed more fragile. 

Companies have soybean production acres in geographically diverse locations to mitigate weather risks. Then, other areas can make up the difference if an area is hit hard by a weather challenge. 

Herr says Beck's also plants "risk management" bushels, which are bushels beyond their demand forecast. "We want to have a good supply in case farmers need to replant or change their mind and want to plant more soybeans," he says.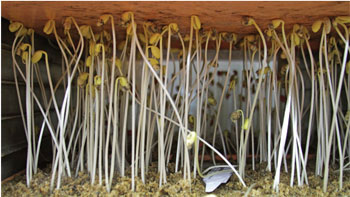 To determine the germination scores, a sample of 100 seeds from each unit is planted in sand in a controlled environment. After five to seven days, the sprouts are counted. If 90 seeds sprout, the unit has a 90% germination score.

In addition to growing season challenges, winter weather can also throw a wrench in seed processing. "About the time you want to bring beans into the plant for processing, you can't get trucks to these farmers' bins because you are not allowed to drive on certain roads," says Mike Hawbaker, Monsanto U.S. soybean manufacturing lead. Many states and counties prohibit travel by heavy trucks due to springtime freezing and thawing. 

To have seed ready for planting, Hawbaker says, processing plants have to start in the early fall and run up to planting. Any weather delays strain an already tight deadline.

Meeting demand. Soybean traits tend to fall into four buckets—LibertyLink, Roundup Ready, Roundup Ready 2 Yield and conventional. "Traits in soybeans are exploding," Herr says. As a result, he adds, Beck's product offerings tend to rotate 15% to 20% each year.

As the soybean trait pipeline deepens, companies must continually revise which products farmers will want to purchase. "One of the biggest challenges is forecasting seed needs," Hansen says. "You take these traits, and they all have different varieties and maturities. Every product you offer will chew up a certain number of seed acres, and you also have to determine when to drop older lines."

Companies also have to predict the number of acres farmers will dedicate to soybeans. "We don't know what commodity prices will do and where the crop shift in acres will happen," Hawbaker says. To provide guidance, Monsanto researchers study historical sales figures and weather data to identify where farmers might be able to plant early, be more likely to choose soybeans or be forced to replant. 

Soybean seed can be produced in the winter in tropical locations such as South America. But since the volume of seed needed is so large, there are cost and timing limitations. As a result, winter production is often used for research or seedstock production.

As the soybean seed supply chain evolves, new technologies and farmers' demands will also emerge.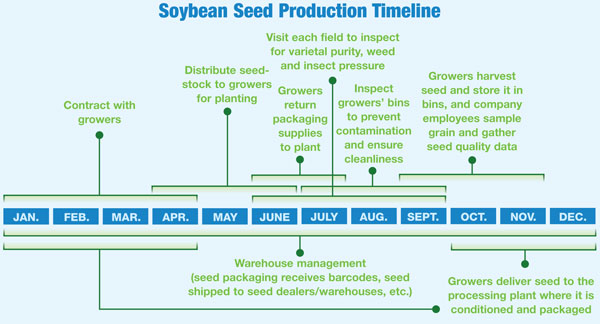 Even though soybean planting only spans a few months, planning for those seeds is a year-round process. Jason Wildman, Monsanto site manager in Centralia, Ill., provides this month-by-month look at the seed supply process.