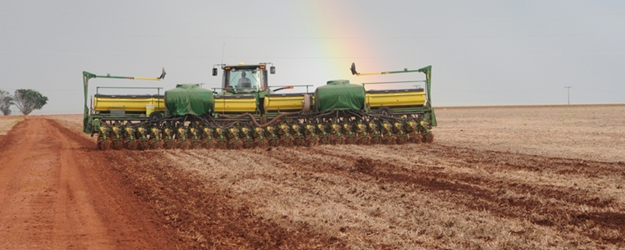 SLC Agricola SA, Brazil's biggest publicly traded cotton and soybean grower, is scaling back plans to double its growing areas after commodity prices plunged.
SLC, which has tripled its land since going public in 2007, is scrapping a plan announced in 2011 to expand to 700,000 hectares (1.7 million acres) by 2020 from about 344,000 now, Chief Executive Officer Aurelio Pavinato said in an interview. Instead, the Porto Alegre-based company wants to boost cash flow by making current farms more efficient, he said.
Soybeans and corn are trading at four-year lows and cotton is posting the second-biggest slide among agricultural commodities worldwide this year, making farmland purchases in parts of Brazil that are far from ports less desirable. SLC is now focusing on areas that need fewer investments through leasing and joint ventures as well as on cutting costs.
"We want to grow more selectively from now on," Pavinato said at Bloomberg's office in Sao Paulo. While demand for grain will remain strong, it won't rise as quickly as in previous years, he said. "That's causing us to worry more about efficiency."
Shares Underperform
The company's shift in strategy comes as its shares trade below what Pavinato considers to be fair value. SLC has declined 11 percent this year before today, compared with an 8.2 percent gain for the Ibovespa index. Smaller rivals Vanguarda Agro SA and BrasilAgro have also underperformed the benchmark, posting a 24 percent drop and 1.6 percent rise in the period, respectively.
"We're not satisfied with this performance," Pavinato said. The company's farmland portfolio implies a share price of 35 reais ($16) apiece. "The market seems to be paying more attention to profitability and cash-flow levels."
SLC fell 0.4 percent in Sao Paulo trading yesterday to close at 18.17 reais. The company posted net income of 96.6 million reais and negative cash flow of 306 million reais in 2013, according to data compiled by Bloomberg.
A major boom to SLC's plans to earn more per hectare will be logistics improvements in coming years, he said. Traders from Bunge Ltd. to Cargill Inc. are spending about $2.5 billion on docks, barge fleets and terminals to take advantage of a new shipping route along the Amazon River.
Most of Brazil's soybean and corn production is now trucked more than 2,000 kilometers (1,200 miles) to ports in the nation's southeast. The cost of moving soybeans from Mato Grosso, in western Brazil, should fall by 25 percent, or about $1 a bushel, as exports along the Amazon route ramp up, Pavinato said.
Changing Logistics
"We've never seen a change in logistics as great as what we'll see in the next five years," he said, and the improvement will bolster land prices in Brazil. "We're going to be more competitive."
The company plans to raise the share of leased land to half of its portfolio from about one-third now, Pavinato said. The shift will help boost cash flow and lower capital expenditures as borrowing costs rise. SLC is also seeking joint ventures such as the one formed last year with Mitsui & Co. for the production of soybeans and cotton in Brazil's northeast.
That strategy will help shares gain in the medium- and long-term, Nataniel Cezimbra and Marcio Montes, analysts for Banco do Brasil SA, said in an e-mailed response to questions.
Banco do Brasil rates the stock the equivalent of a buy, alongside 10 other buy ratings. Three analysts say hold and none recommend selling, according to data compiled by Bloomberg.
"SLC is one of world's most productive farming companies," the analysts said.
 
Want more? AgWeb readers are sharing fresh marketing insights every day. Click here to join the conversation, or to start your own.