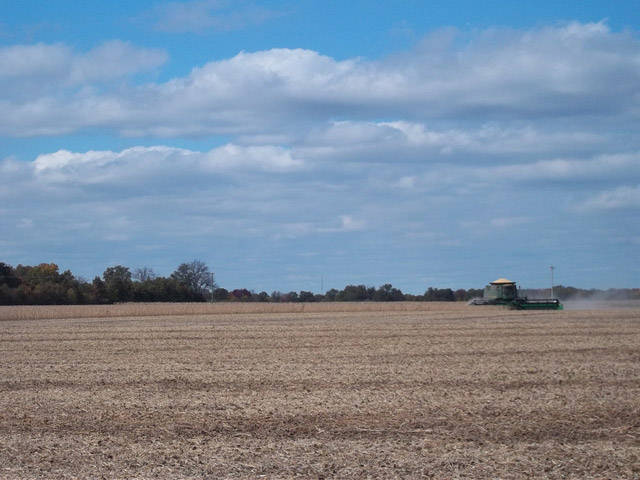 Soybeans and corn declined for a third day as U.S. farmers made progress bringing in a record harvest of both crops, with an outlook for dry weather next week that will allow fieldwork to advance again.
Drier weather for Nov. 9-13 in much of the Midwest will allow corn and soybean harvesting to progress well, MDA Weather Services wrote in a report yesterday. U.S. soybean gathering was 83 percent completed as of Nov. 2 from 70 percent a week earlier, the U.S. Department of Agriculture said Nov. 3.
Soybeans for January delivery fell 1.1 percent to $9.985 a bushel on the Chicago Board of Trade by 5:24 a.m., while corn for December delivery declined 1 percent to $3.6075 a bushel. Both were headed for the longest run of declines since Sept. 23.
"American harvests continue and are now 83 percent completed for soybeans, which is in line with the average of the last years," Paris-based farm adviser Agritel wrote in a market comment. "Upcoming weather looks to be more clement and that should allow for harvests in decent conditions."
About 65 percent of domestic corn was collected as of Nov. 2 from 46 percent a week earlier, the USDA said.
U.S. farmers may harvest 3.969 billion bushels of soybeans and 14.556 billion bushels of corn this year, topping USDA forecasts for 3.927 billion bushels of soybeans and 14.475 billion of corn, according to a survey of 26 analysts and traders by Bloomberg News. The agency is set to update its projections on Nov. 10.
"Weather forecasts continue to suggest largely favorable conditions for harvest," Commonwealth Bank of Australia said in an e-mailed note today. "Models do not have another substantial U.S. Midwest precipitation event until mid-November."
Wheat for December delivery fell 0.8 percent to $5.265 a bushel in Chicago after declining 1.4 percent yesterday. Milling wheat for January delivery traded on Euronext in Paris was unchanged at 171.75 euros ($214.48) a metric ton.