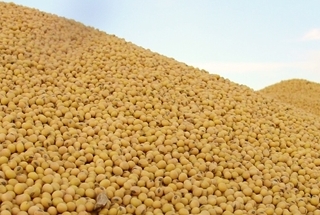 Soybeans fell to the lowest level since 2010 after China suspended import approval on two genetically modified traits and U.S. farmers began harvesting a record crop. Corn rebounded from a five-year low.
Prices tumbled 30 percent this year on expectations that a record harvest in the U.S., the top grower, will boost global supply. Two genetically modified traits currently not grown in commercial quantities in U.S., were held as "pending" in China, the biggest buyer, Jim Sutter, chief executive officer of the U.S. Soybean Export Council, said Sept. 26. The U.S. soybean harvest was 3 percent complete in main growing areas as of Sept. 21, the U.S. Department of Agriculture said last week.
Soybeans declined on "news that China was set to suspend imports of genetically modified product and an ever improving yield forecast for the U.S. crop," Australia & New Zealand Banking Group Ltd. said in a report e-mailed today. The traits haven't been rejected and the delay was based on "more emotional" reasons, according to Sutter.
Soybeans for November delivery dropped 0.3 percent to $9.0775 a bushel by 5:02 a.m. on the Chicago Board of Trade after earlier dropping to $9.055, the lowest for a most-active contract since July 2010.
U.S. soybean production will reach a record 3.913 billion bushels, according to the USDA. Yields will total 46.6 bushels an acre, up from an August estimate of 45.4 bushels per acre, it forecast on Sept. 11.
Corn for December delivery climbed 0.5 percent to $3.245 a bushel, rallying from a 0.3 percent drop to $3.22, the lowest for a most-active contract since September 2009. Wheat for delivery in December rose 0.8 percent to $4.7825 a bushel. Milling wheat futures traded in Paris climbed 0.5 percent.