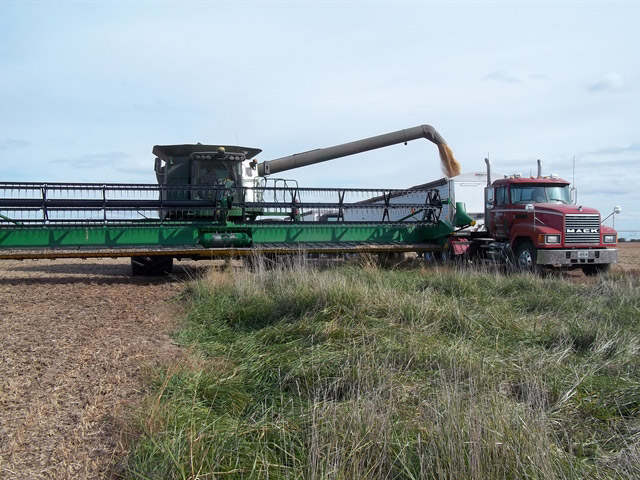 Soybeans fell on speculation lower crude oil prices will cut demand for diesel made from vegetable oils, amid signs of slower growth in China as well as expectations for reduced crushing in the U.S.
Crude oil is trading near the lowest since September 2010. Blending diesel made from soybean, rapeseed and palm oil into transportation fuel becomes less attractive when crude prices drop relative to vegetable oil.
"When crude oil prices go down, then probably biodiesel demand would go down as well," Faiyaz Hudani, associate vice president at Kotak Commodity Services, said by phone from Mumbai. That's hurting palm oil and soybean oil, he said.
Soybeans for January delivery fell 1.2 percent to $10.41 a bushel on the Chicago Board of Trade by 5:51 a.m., trimming this week's gain to 0.4 percent. Soybean meal for December delivery fell 1.6 percent.
U.S. soybean crushing probably fell 5.8 percent in October from a year earlier, based on the average estimate of eight analysts surveyed by Bloomberg. The National Oilseed Processors Association is set to release its crush report on Nov. 17.
Lending in China fell in October, with aggregate financing of 662.7 billion yuan ($108 billion) from 1.05 trillion yuan in September, the People's Bank of China reported today. The country is the world's biggest buyer of soybeans.
Wheat for March delivery fell 0.4 percent to $5.535 a bushel in Chicago amid speculation that concerns freezing conditions could damage the U.S. crop may be overdone. Milling wheat for January delivery traded on Euronext in Paris fell 0.3 percent to 175.50 euros ($218.43) a metric ton.
Chicago wheat futures are set to jump 7.6 percent this week, the most since March. Freezing conditions in northeast Colorado, western Nebraska and far northwest Kansas may lead to spotty winter-kill, with losses of 1 percent to 2 percent possible for hard red wheat, Commodity Weather Group LLC said in a report yesterday.
"As we have learned over the decades, winter kill does not actually kill the wheat crop this early in the year," economist Dennis Gartman wrote in his newsletter. "We shall reiterate an old trading aphorism from the past, noting that wheat is indeed a weed and that almost nothing can kill it."
Corn for delivery in March fell 0.6 percent to $3.9625 a bushel, trimming a weekly increase to 7.8 percent.