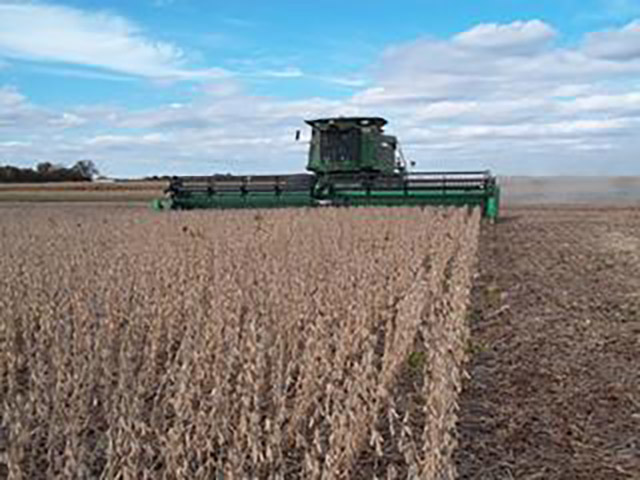 Soybeans dropped from a two-week high in Chicago as surveys indicated world inventories and American crops may exceed last month's estimate by the U.S. government.
World soybean stockpiles before the 2015 Northern Hemisphere harvests may reach 90.96 million metric tons, against the 90.17 million tons forecast by the U.S. Department of Agriculture, according to a Bloomberg survey. The U.S. may gather 3.992 billion bushels, topping the government's forecast of a record 3.913 billion bushels, another survey showed. The USDA is set to update its projections on Oct. 10.
Soybeans for November delivery fell 0.6 percent to $9.37 a bushel by 7:13 a.m. on the Chicago Board of Trade. The oilseed rose 3.3 percent yesterday, the most since August 2013, and reached $9.43, the highest since Sept. 23. Prices tumbled 28 percent this year as farmers in the U.S., the top grower, prepare to harvest the biggest crop ever.
"The markets are probably taking a bit of a breather," Paul Deane, an analyst at Australia & New Zealand Banking Group Ltd., said by phone from Melbourne today. "In general, the markets still feel the USDA numbers on soybean and corn production are a bit on the low side."
Soybean prices jumped yesterday amid harvest progress that was less than expected. U.S. farmers gathered an estimated 20 percent of the crop, against expectations for a 23 percent pace.
Corn for December delivery fell 0.6 percent to $3.305 a bushel, after climbing 2.9 percent yesterday, the biggest gain since March for a most-active contract. Wheat for delivery in December was little changed at $4.9125 a bushel. Milling wheat for November delivery traded on Euronext in Paris slid 1.2 percent to 158.25 euros ($199.56) a ton.