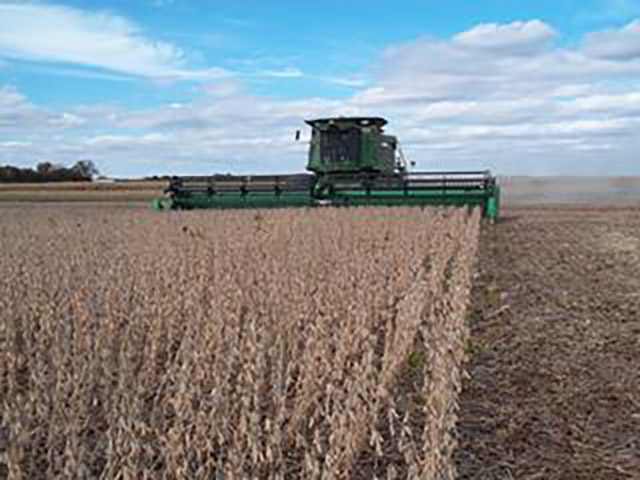 Soybeans fell, headed for the longest run of monthly declines since 2008, as improving crop conditions bolstered the outlook for record U.S. production. Corn also declined and traded near the lowest since 2009.
Soybeans in good or excellent condition made up 72 percent of the U.S. crop as of Sept. 28, up from 71 percent last week, the U.S. Department of Agriculture reported yesterday. The USDA will update its quarterly crop-inventory estimates later today.
"Operators expect an upward revision of U.S. corn and soybean ending stocks, in a context where the first feedback on yields is showing record levels," Paris-based farm adviser Agritel wrote in a market comment.
Soybeans for November delivery fell 0.7 percent to $9.1675 a bushel on the Chicago Board of Trade by 6:04 a.m. Futures are poised to drop 21 percent this quarter, and retreat for a fifth month, the longest such run since November 2008.
U.S. farmers had harvested 10 percent of the soybean crop as of Sept. 28 compared with 3 percent a week earlier and 12 percent of corn versus 7 percent the prior week, the USDA reported.
Soybean inventories left over from last year's harvest probably totaled 131 million bushels as of Sept. 1, according to a Bloomberg survey. Corn stockpiles were estimated at 1.191 billion bushels from 821 million bushels a year earlier, the survey shows. Farmers will harvest 3.913 billion bushels of soybeans and 14.395 billion bushels of corn, USDA data show.
Corn for December delivery dropped 0.2 percent to $3.2525. Futures are set for a fifth monthly decline, extending this quarter's 23 percent slump, the biggest since the three months through June 2013.
For the U.S. corn crop, 74 percent was considered in good or excellent condition as of Sept. 28, unchanged from a week earlier, according to the USDA.
"The soybean and corn crops remain in truly wonderful condition," economist Dennis Gartman wrote in his daily newsletter. "Corn is almost exactly the same, a truly amazing crop that keeps growing larger by the day."
Wheat for December delivery slipped 0.6 percent to $4.785 a bushel. Prices are poised to drop 15 percent this month, the biggest decline since September 2011, and are headed for a second quarterly loss.
Milling wheat for November delivery traded on Euronext in Paris rose 0.5 percent to 154.50 euros ($194.75) a metric ton.