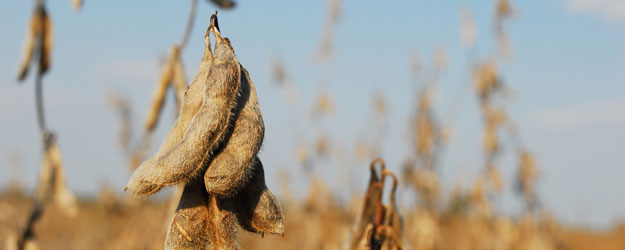 Soybeans held declines after retreating from a one-month high amid expectations that drier weather forecast for some growing areas the U.S. will aid the harvesting of a record crop.
 The oilseed climbed to $9.785 mid-week, the highest level for a most-active contract since Sept. 18, before reversing to end 1.3% lower at $9.525.

Showers will be very limited for the next two weeks, allowing the Midwest soybean and corn harvest to get back on track, Commodity Weather Group said in a report. About 40% of the U.S. soybean crop and 24% of the corn crop was harvested as of Oct. 12, trailing five-year averages, USDA said Oct. 14. The U.S. is the biggest grower of both crops, USDA data show.
"There's a little bit of selling on the back of what's been a decent run," Michael Pitts, commodity sales director at National Australia Bank Ltd., said by phone from Sydney. "We also continue to see pretty good yield reports come through, on corn in particular."
Farmers are set to collect a record 3.927 billion bushels of soybeans this year and corn output will rise to an all-time high of 14.475 billion bushels, the USDA forecast on Oct. 10.
Corn for December delivery traded at $3.485 a bushel from $3.475 mid-week. Prices climbed to $3.5825, the highest since Sept. 3, before closing 2.7% lower. Wheat for delivery in December added 0.3% to $5.0725 a bushel.
berg.net Jake Lloyd-Smith