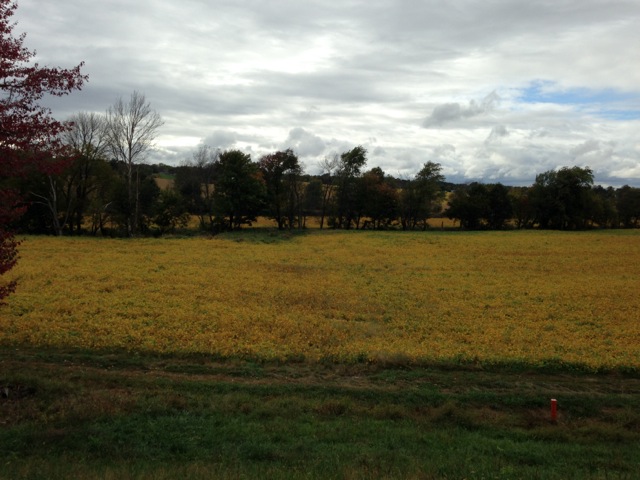 Soybeans rebounded from a one-week low in Chicago as a report showed harvest progress in the U.S. remains behind the normal pace.
Farmers collected 53 percent of soybeans in the main U.S. growing areas as of Oct. 19, less than the five-year average pace of 66 percent, the U.S. Department of Agriculture said yesterday. Fieldwork has been delayed by recent rain, and while conditions will be drier this week, some areas of the western Midwest may see some showers late tomorrow, DTN said yesterday.
"Last week, 1-3 inches of rain in the central and eastern Corn Belt further delayed corn and soybean harvests," Morgan Stanley analysts including Bennett Meier wrote in an e-mailed report today. "Though drier weather this week may help speed progress in these regions, 0.5-1 inch of rain may once again hinder it in the western Corn Belt."
Soybeans for November delivery rose 0.5 percent to $9.49 a bushel at 5:13 a.m. on the Chicago Board of Trade. Prices dropped to $9.36 yesterday, the lowest for a most-active contract since Oct. 13. The oilseed has still declined 27 percent this year as the USDA predicts U.S. farmers will harvest a record crop.
Futures trading volume was 19 percent higher than the average for the last 100 days for this time of day, according to data compiled by Bloomberg.
Corn for December delivery was little changed at $3.485 a bushel. U.S. farmers had harvested 31 percent of crops as of Oct. 19, compared with the average pace of 53 percent, the USDA said.
Farmers in Brazil, the top soybean exporter and second- biggest corn shipper, are delaying planting because of dry weather, while rain in the forecast may help to ease conditions, Morgan Stanley said. Central and southeastern growing areas probably will see "locally heavy rainfall and much cooler temperatures this week and next, likely stimulating substantial planting progress," QT Weather said in a report.
Wheat for December delivery added 0.5 percent to $5.16 a bushel in Chicago. In Paris, milling wheat for November delivery increased 0.8 percent to 161 euros ($205.48) a metric ton on Euronext.