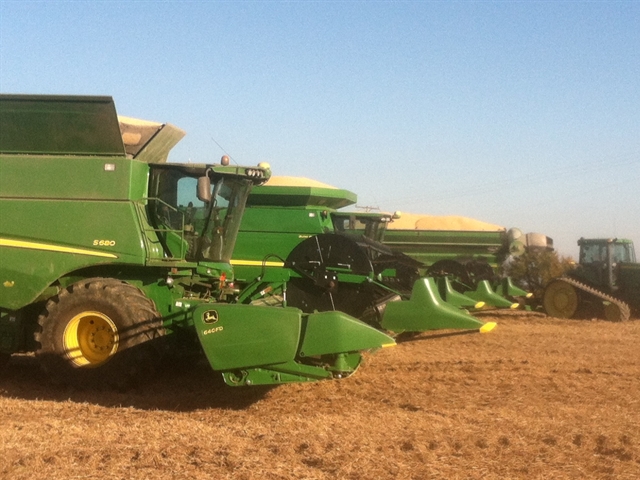 Soybeans and corn rose to the highest in more than a month in Chicago on signs that demand is increasing for U.S. exports after prices tumbled this year amid prospects of record production.
U.S. exporters sold 2.17 million metric tons of soybeans in the week ended Oct. 16, the most in a month and more than double the amount a week earlier, the U.S. Department of Agriculture said yesterday. China, the biggest consumer, accounted for 1.7 million tons of the total. Corn export sales in the past four weeks are more than double the same time last year, even as shipments declined in the latest week to 1.03 million tons.
"Price movement was driven by yesterday's announcement of unexpectedly robust U.S. exports," Michaela Kuhl, an analyst at Commerzbank AG in Frankfurt, wrote in an e-mailed report today. Sales of both soybeans and corn were "higher than the market expected."
Soybeans for November delivery climbed 0.8 percent to $10.0075 a bushel at 6:01 a.m. on the Chicago Board of Trade. Earlier the price touched $10.01, the highest since Sept. 9. Prices headed for a 5.1 percent gain this week, the most since August 2013. The oilseed touched a four-year low on Oct. 1 at $9.04 as the USDA predicts U.S. farmers will harvest a record 3.927 billion bushels.
Corn for December delivery increased 1.3 percent to $3.6425 a bushel, set to climb 4.7 percent this week, the fourth weekly gain. The price earlier today touched $3.6475 a bushel, the highest since Sept. 2. The grain is still down 14 percent this year as U.S. farmers are expected to harvest a record 14.475 billion bushels, according to the USDA.
Wet Weather
Crop prices have been supported recently as wet weather delayed the U.S. harvest while dryness threatened planting in Brazil, the world's biggest soybean exporter. Western parts of the U.S. Midwest may see scattered showers early next week, according to DTN. Brazilian soybean areas are expected to see more frequent thunderstorms in the next week, improving planting prospects, the forecaster said.
Wheat rose 1.7 percent to $5.355 a bushel, extending a fourth weekly advance. The price touched $5.36, the highest since Sept. 8. In Paris, milling wheat for January delivery gained 1.5 percent to 172 euros ($217.68) a ton on Euronext, also the highest since Sept. 8.