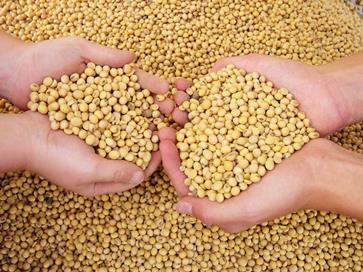 Soybeans and corn extended declines in Chicago to the lowest levels since 2010 as the harvest accelerated in the U.S., the world's top grower.
Soybean and corn production may climb to records at 3.913 billion bushels and 14.395 billion bushels, respectively, in the 2014-15 season, the U.S. Department of Agriculture said Sept. 11. Farmers collected about 4 percent of corn crops in the main U.S. growing areas as of Sept. 14, according to the USDA, which is set to update its weekly crop progress report today, including its first assessment of the soybean harvest pace this season.
"It's likely that we're going to have confirmation of these record yields in the next few weeks, so that's really what the market is anticipating now," Benjamin Bodart, a managing director at ODA U.K., a unit of French farm adviser Offre et Demande Agricole, said by phone today from Bartlow, England. "All of the elements are in favor of big harvests."
Soybean futures for November delivery dropped 1.5 percent to $9.43 a bushel at 5:22 a.m. on the Chicago Board of Trade. Earlier today, the price fell to $9.42, the lowest since July 2010. Corn for December delivery lost 0.4 percent to $3.3025 a bushel, after earlier touching $3.30, the lowest for a most- active contract since June 2010.
Major growing areas in the U.S. and Canada will see mild temperatures for at least the next week, with no damaging frosts expected, QT Weather said in a report yesterday. The weather will be mostly dry, it said, allowing fieldwork to accelerate.
Wheat for December delivery climbed 1 percent to $4.7925 a bushel in Chicago. The price rebounded after touching $4.7375 on Sept. 19, the lowest since June 2010. Egypt, the world's largest wheat importer, bought 55,000 metric tons of U.S. grain in a tender Sept. 20. That marked its first purchase of U.S. wheat in a tender since March, data compiled by Bloomberg show.
Milling wheat for November delivery fell 1 percent to 152 euros ($195.38) a ton on Euronext in Paris. The grain earlier touched 151.25 euros, the lowest since July 2010.