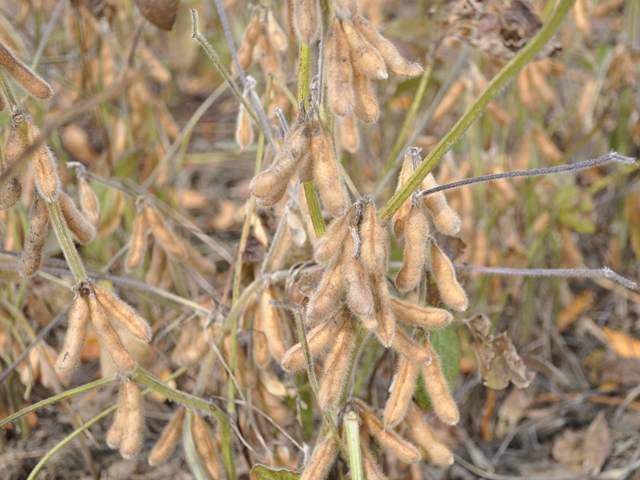 Soybean futures tumbled the most in six months after the government said inventories expanded in the U.S., the world's biggest grower.
Domestic stockpiles on Dec. 1 reached 2.524 billion bushels, the U.S. Department of Agriculture said today. That's the highest for the date since 2006 and compares with 2.154 billion a year earlier. Analysts surveyed by Bloomberg expected 2.599 billion, on average.
Global inventories before next season's harvest in the Northern Hemisphere will be most ever, the USDA said, boosting its outlook from a December forecast. American production will be bigger than estimated last month, the agency said. Rising supplies sent prices tumbling 21 percent last year, the most since 2004.
"U.S. and world production is larger than expected and that implies comfortable soybean supplies heading into the 2015 growing season," Dale Durchholz, the senior market analyst at AgriVisor LLC in Bloomington, Illinois, said in a telephone interview. "Record production in consecutive years is building reserves."
Soybean futures for March delivery dropped 3.4 percent to close at $10.16 a bushel at 1:15 p.m. on the Chicago Board of Trade, the biggest decline for a most-active contract since June 30.
U.S. production will total a record 3.969 billion bushels (108.01 million metric tons), the agency said, raising its estimate from 3.958 billion in December. Domestic stockpiles will surge to 410 million bushels from 92 million a year earlier.
World Reserves
The report "generally confirmed what everyone was expecting: It was a fairly large crop last year, and it'll lead to fairly large carryouts this year," Peter McKeegan, a senior risk manager at Top Third Ag Marketing in Chicago, said in a telephone interview.
World reserves on Aug. 31 will total 90.78 million tons, up from 66.16 million a year earlier, the government said. Analysts surveyed by Bloomberg were expecting 90.17 million, on average.
A global grain glut has helped to keep food inflation in check. World food prices tracked by the United Nations slid to a four-year low last month as costs fell for foodstuffs from sugar to milk.
Corn futures for March delivery rose 0.4 percent to $4.02 a bushel. Earlier, the price touched $3.90, the lowest since Dec. 10.
Wheat futures for March delivery declined 1.5 percent to $5.555 a bushel. The price touched $5.54, the lowest since Nov. 25.
Aggregate corn trading more than doubled compared with the 100-day average, according to data compiled by Bloomberg. Soybeans rose 43 above the average, and wheat gained 21 percent.