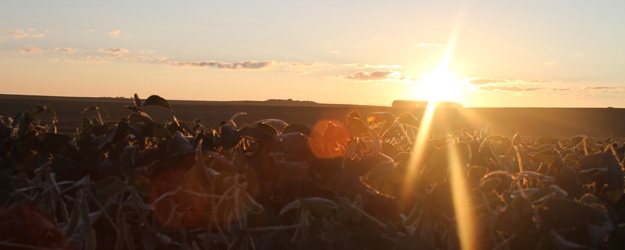 April 16 (Bloomberg) -- Soybeans rose above $15 a bushel in Chicago, climbing for a third day, after higher-than-estimated U.S. processing of the oilseed in March eroded stockpiles.
U.S. processors crushed 153.84 million bushels of soybeans last month from 141.61 million bushels in February, the National Oilseed Processors Association reported yesterday. Analysts surveyed by Bloomberg had projected 145.11 million bushels.
Soybeans for delivery in July added 1.3 percent to $15.0625 a bushel by 7:19 a.m. on the Chicago Board of Trade. Prices gained 4.1 percent over the current streak of advances, the longest in three weeks.
"Demand for old-crop soybeans provides the support," Paul Georgy, the president of Allendale Inc., wrote in a market comment. "The NOPA crush number was a surprise for traders."
U.S. soybean stocks at the end of August will be 135 million bushels, the U.S. Department of Agriculture forecast on April 9, cutting its outlook from domestic inventories before the next harvest from 145 million tons in March.
"In soybeans, the sustained crushing activity is supporting the prices in a market where the balance sheet at the end of the campaign remains ever tighter," Paris-based farm adviser Agritel wrote in a market comment.
Palm oil for delivery in June rose 1.4 percent to 2,700 ringgit ($832) a metric ton, the highest level since March 25, in Kuala Lumpur trading on indications of rising exports. The vegetable oil competes with soybean oil.
Milling Wheat
Wheat for delivery in July rose 0.3 percent to $7.115 a bushel in Chicago after yesterday's 3.3 percent climb, the biggest since March 19. Milling wheat for delivery in November traded on NYSE Liffe in Paris was unchanged at 209.75 euros ($290.34) a ton.

Chicago wheat rose 18 percent this year as U.S. crop conditions deteriorated and tensions between Russia and Ukraine intensified concern about potential disruption of supplies from the Black Sea region.
About 34 percent of the U.S. winter-wheat crop to be harvested starting in May was in good or excellent condition on April 13, from 35 percent a week earlier and 62 percent in November, the USDA said April 14.
"We had quite a bit of a rally overnight on the back of potential winter-kill issues in the U.S.," Graydon Chong, an analyst at Rabobank International in Sydney, said by telephone. "We may well see the market take a bit of a breather here after the sharp rally. The market continues to watch developments in the Black Sea region."
Hard, red winter wheat for delivery in July fell 0.1 percent to $7.71 a bushel in Chicago after climbing 6.3 percent in the prior two days, the most since July 5, 2012. The variety is used to make bread. Corn for the same delivery month slid 0.2 percent to $5.0875 a bushel.
--With assistance from Jeff Wilson in Chicago and Ranjeetha Pakiam in Kuala Lumpur.
To contact the reporters on this story: Rudy Ruitenberg in Paris at rruitenberg@bloomberg.net; Phoebe Sedgman in Melbourne at psedgman2@bloomberg.net To contact the editors responsible for this story: James Poole at jpoole4@bloomberg.net John Deane