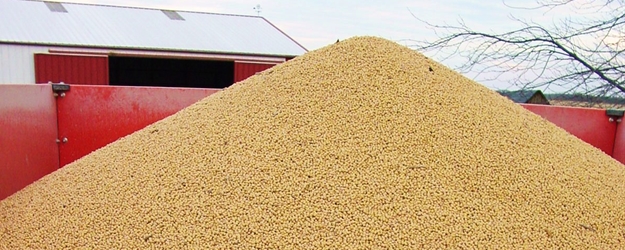 Soybeans extended a rally from the lowest level in almost four years amid speculation that dry weather in the U.S. Midwest through next week could potentially affect yields.
U.S. corn and soybeans may get below-normal rainfall in the next 10 days, with stress for pod-setting soybeans in dry areas of Indiana, Nebraska, Missouri, Illinois and Kansas, Commodity Weather Group wrote in a forecast today. Heat will be limited, mitigating the stress "somewhat," it said.
"Concerns of dry weather in the U.S. Midwest led to new- crop soybeans edging higher," U.K. grain trader Gleadell Agriculture Ltd. wrote in a comment. "The crop is at a key stage of development and dry weather could restrict yields."
Soybeans for November delivery rose 1 percent to $10.875 a bushel on the Chicago Board of Trade by 6:33 a.m. local time. Prices dropped to $10.55 yesterday, the lowest for a most-active contract since October 2010, before closing 1.8 percent higher.
Soybeans in the northwest of the Midwest will need rain in August, CWG said. Dry spots in Indiana, Minnesota, Wisconsin and North and South Dakota are most at risk of soybean losses in the 16-30 day outlook due to shallow rooting, it said.
"The market remains attentive to the weather conditions in order to confirm the currenty adequate conditions for soybeans," Paris-based farm adviser Agritel wrote. "The models remain rather uncertain, with a possible return of dryness spurring on the prices of the entire soybean complex."
Record Crop
Soybean futures tumbled 16 percent this year on expectations a record U.S. crop, the world's biggest, will help boost global supplies. Domestic output will reach 3.8 billion bushels in the year that starts Sept. 1, boosting world inventories at the end of the season to a record 85.31 million metric tons, the U.S. Department of Agriculture said July 11. The oilseed's relative strength index was at 29.3 yesterday, below the level of 30 that signals to some analysts that prices may advance.
Futures rose "after a relentless period of selling," Australia & New Zealand Banking Group Ltd. analysts including Paul Deane wrote in a note today. "Prices look to be developing a new support level at $10.70 a bushel, after rebounding from a new low of $10.55 a bushel."
Wheat for September delivery advanced 1 percent to $5.36 a bushel. Prices fell to $5.2025 yesterday, the lowest since July 2010, before closing 1.2 percent higher. Milling wheat for November delivery traded on Euronext in Paris increased 1 percent to 181.25 euros ($244.36) a ton amid concern that rain hurt grain quality.
"Available volumes of quality wheat are obviously sought after to allow execution of nearby deliveries," Agritel said. "On the export market, we see the continued dominant presence of Black Sea origins."
Egypt bought wheat from Russia, Romania and Ukraine in a tender yesterday.
Corn for December delivery rose 0.5 percent to $3.725 a bushel in Chicago. Prices fell to $3.6575 yesterday, the lowest since July 2010, before rising 0.7 percent at the close.