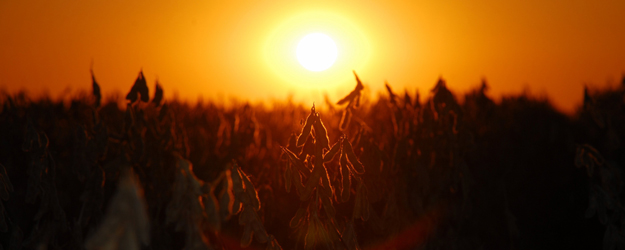 Soybeans fell for a fourth day in the longest slump since July amid worries of sliding demand in China, the world's biggest importer of the oilseed.
U.S. and South American soybean exports will probably slow through the end of the season as China buying declines on ample stockpiles, researcher Oil World said last week. Two Brazilian soybean cargoes initially sold to China were switched to the U.S., Reuters reported yesterday, citing shipping data.
Soybeans for July delivery fell 0.5 percent to $14.6375 a bushel on the Chicago Board of Trade by 7:48 a.m., after declining as much as 0.7 percent in earlier trade to the lowest level for a most-active contract since April 15.
"The decline in soybean prices continues, especially for nearby contracts on CBOT, in a context of new cancellations by China and South American exports to the U.S.," Paris-based farm adviser Agritel wrote in a market comment.
There are reports that China will soon auction 3 million metric tons of state reserves, which equates to roughly one- third of total inventories, Commonwealth Bank of Australia wrote in a note today.
The auction "could have negative consequences for future import demand," said Luke Mathews, the bank's commodity strategist in Sydney. "Worries about near-term oilseed demand in China continue to simmer within the market."
Two cargoes from Brazil with a total 126,000 tons of soybeans have been rerouted and are scheduled to arrive in the U.S. next month, according to Reuters. Bloomberg competes with Thomson Reuters in selling financial and legal information and trading systems.
USDA
Imports by China, which buys more than 60 percent of globally traded beans, may rise 15 percent to 69 million tons in the year through Sept. 30 from a year earlier, the U.S. Department of Agriculture predicts. The U.S. is the second- biggest shipper behind Brazil, while Argentina ranks third, USDA data show.
Brazil, Argentina and U.S. exports from April through September will total 45.09 million tons of beans, less than the 46.86 million tons shipped in the same period last year, Hamburg-based Oil World predicts. Exports will slow after 50.73 million tons were shipped in the first half of the season that started Oct. 1, the researcher said.
Corn for July delivery was little changed at $5.025 a bushel. Wheat for delivery the same month declined 0.6 percent to $6.755 a bushel in Chicago and milling wheat for November traded on NYSE Liffe in Paris fell 0.6 percent to 201.25 euros ($279) a ton.