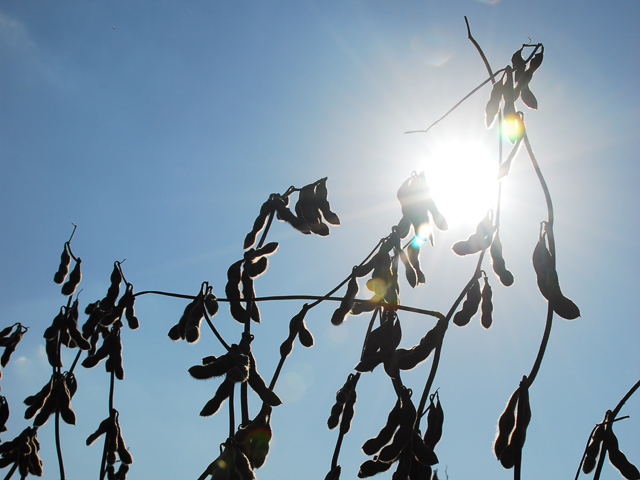 Soybeans climbed to the highest price in more than nine months after inventories in the U.S., the world's largest producer, fell to the lowest level in a decade. Corn extended a bull-market rally.
U.S. soybean stockpiles dropped to 992.3 million bushels as of March 1, the lowest for that date since 2004, the Department of Agriculture said yesterday. Supplies declined this year amid rising demand from China. Farmers will begin planting the new crop in the next few weeks and intend to sow a record 81.493 million acres, the USDA said in a separate report. That number was near analyst expectations of 81.162 million acres in a Bloomberg News survey before the report.
"Those looking for a reason to sell soybeans were disappointed," Paul Deane, an analyst at Australia & New Zealand Banking Group Ltd., wrote in a note today. Stockpiles "are slightly tighter than this time last year, while the swing to soybean plantings was well within market expectations."
Soybeans for May delivery rose 1 percent to $14.785 a bushel at 4:10 a.m. on the Chicago Board of Trade. Earlier the price touched $14.8175, the highest for a most-active contract since June 6. Prices climbed 13 percent last quarter, the most since the first three months of 2012.
Bull Market
Corn futures for May delivery rose 0.3 percent to $5.035 a bushel. Earlier the price touched $5.05, the highest for a most- active contract since Aug. 26. Futures entered a bull market yesterday, climbing 22 percent from a closing low of $4.12 on Jan. 9.
U.S. corn inventories on March 1 were 7.006 billion bushels, less than the 7.098 billion expected by analysts, the USDA said. Farmers may plant 91.691 million acres of corn when fieldwork starts in the next few weeks, the smallest area in four years, according to the report.
"The next focus will be U.S. planting intentions and whether or not U.S. agricultural yields will suffer from another year of adverse weather," Deutsche Bank AG analysts including Michael Lewis wrote in an e-mailed report today. "If not, then recent gains in grain prices may start to unwind on the prospects of a rebuilding in U.S. inventories."
Wheat for May delivery fell 1.4 percent to $6.8725 a bushel in Chicago. Milling wheat for November delivery fell 0.6 percent to 200.50 euros ($276.55) a metric ton on NYSE Liffe in Paris, after earlier dropping to 199.75 euros, the lowest since March 19.
U.S. wheat inventories on March 1 were 1.056 billion bushels, near analyst expectations, while planted area for the next crop may be 55.815 million acres, down from 56.156 million a year earlier, the USDA said. In a separate report, the USDA said conditions of winter wheat crops in Kansas and Texas deteriorated in the past week because of dry weather.