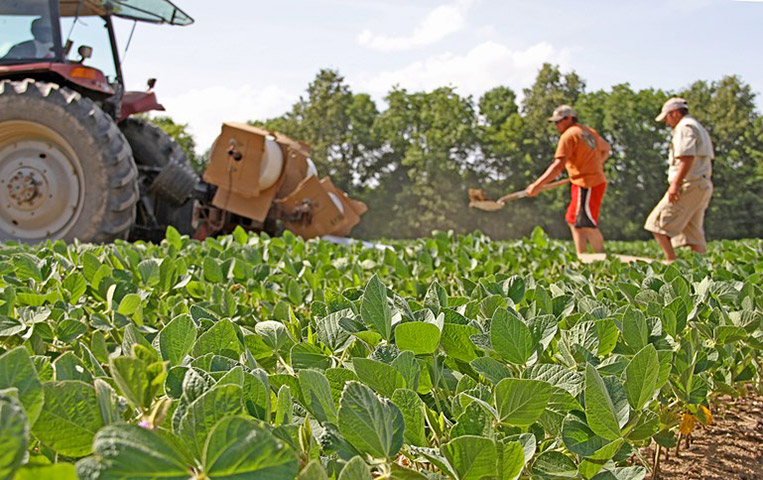 Which soybean maturity group to plant and when? Where's the elusive sweet spot between low risk and big yield?
A new decision-support tool dramatically cuts away soybean guesswork and conjecture at planting. Soybean Maturity, Analysis, and Planning (SoyMAP) helps producers identify the optimum maturity group to plant at a given location for a particular planting date. SoyMAP highlights planting date and maturity group combinations to target the sweet spot between minimum risk and maximum yield.
Three years of field study and one year of data analysis by Larry Purcell, professor of crop physiology, University of Arkansas, and his team of researchers, provided tremendous footing for SoyMAP, which is available online and can be downloaded for free.
Purcell's team planted maturity groups 3-6 on irrigated ground across 10 locations in Arkansas, Louisiana, Mississippi, Missouri, Tennessee, and Texas. The northernmost site was in Columbia, Mo., and the southernmost site was in College Station, Texas. Four different cultivars were planted within each maturity group. The earliest planting took place as soon as permissible in spring; the latest planting started the last week available to double-crop in a given location. Over three years, results were collected on 6,000 plots.
Purcell used narrow rows, with the widest at 30". (Most locations were twin row or 20" spacing.) All locations measured yield, seed quality, developmental stages, stand counts, plant height, node number, lodging, shattering, and green stem. Maturity groups 4 and 5 consistently produced the highest yields recorded – a definite message to plant early. Purcell got a surprise on late planting dates. The highest yields came from Group 4s and some Group 3s, contrasting with the convention of matching a late-planting date with late-maturing cultivar.
"We've used our research results, combined with 30 years of daily weather data from the sites, to come up with SoyMAP," Purcell says. "The power of the model lets us look at historical weather data over long periods and predict what the yield was for different maturity groups, planting dates and different locations. The simulations offer concrete data to determine what the best choice maturity group is for your location on a particular planting date."
Users choose between pull-down menus to select location, planting date, soil, and two different maturity groups they wish to compare. SoyMAP then provides yield, irrigation requirements, crop development stages, and economic comparisons between the selected maturity groups.
All total, with weather history, 74,000 simulations were used to create SoyMAP. The pull down menus allow growers to select irrigation well depth, irrigation type, fuel source, fuel costs, closest cash market, soybean price per bushel, and adjust market premiums according to harvest date. The decision-support tool then points to the optimal maturity group. Michael Popp, professor of Agricultural Economics and Agribusiness, University of Arkansas, took the research data and created the online spreadsheet platform for SoyMAP. "SoyMAP doesn't look like a spreadsheet and no special software is required. It compares maturity groups and shows yield and profit potential in side-by-side comparisons. There are already online tools showing phenological data, but nothing as extensive on risk analysis and economic meaning as SoyMAP."
When addressing profit, SoyMAP accounts for yield; different irrigation requirements; seed price changes; oil, meal and seed premiums; and fuel, fertilizer, chemical and equipment costs. The results are planting date maturity combinations to reduce risk of production without affecting yield. SoyMAP shows the tradeoff between maximum yield and maximum profit by accounting for irrigation cost difference across maturity groups and seasonal soybean price differences as a function of both maturity group and planting date.
Interested in SoyMAP? A video tutorial is available for the free program. "It's so simple to use and easy to understand. The name SoyMAP says it all," Popp adds. "The idea is for a producer to plan out the planting season and select among planting dates and among maturity groups to make a decision that will get them the most money."