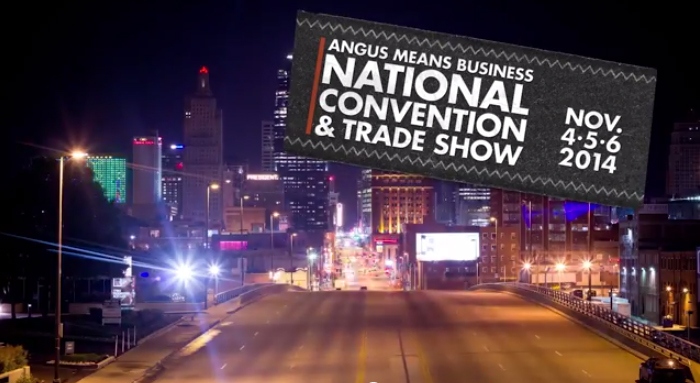 For $25, cattlemen can enjoy the Angus convention with a one-day registration.
Cattle producers and others interested in the future of quality beef will gather in Kansas City, Mo., Nov. 4-6 for the first-ever Angus Means Business National Convention and Trade Show, hosted by the American Angus Association.
The event takes place at the KCI Expo Center near the airport, and features industry thought leaders in extensive educational sessions, an expansive trade show with more than 100 exhibiting companies, as well as top notch entertainment – including country western star John Michael Montgomery, who plays on Wednesday night.
"Anyone with an interest in the cattle business or involved in agriculture would be a great fit to attend the Angus Means Business National Convention and Trade Show," says Becky Weishaar, Angus Productions Inc. Creative Media director and lead contact for the event. "We'll have world-class speakers like Richard Picciotto and Lowell Catlett, and then we'll have two days of workshops, including the Angus University – a full-day event on Wednesday, and Tuesday's Angus Means Business workshops that will really drill into the cattle business."
For those within driving distance, the Association encourages coming in for the day to check out the trade show, enjoy educational seminars and evening entertainment. One-day only registration is $25 or $50 for the entire Nov. 4-6 event. Association members can attend the organization's business meetings free of charge.
"We are really excited that this is an expanded format of the Annual Meeting, which everyone has grown to love over the years, with more people, more education and a trade show," Weishaar says. "So if you're looking for answers about questions you have with animal health or handling facilities, livestock identification – anything that you might need in the cattle business, they'll be in the trade show."

To learn more about the first-ever Angus Means Business National Convention and Trade Show or to get registered, visit www.angusconvention.com.

Source: American Angus Association