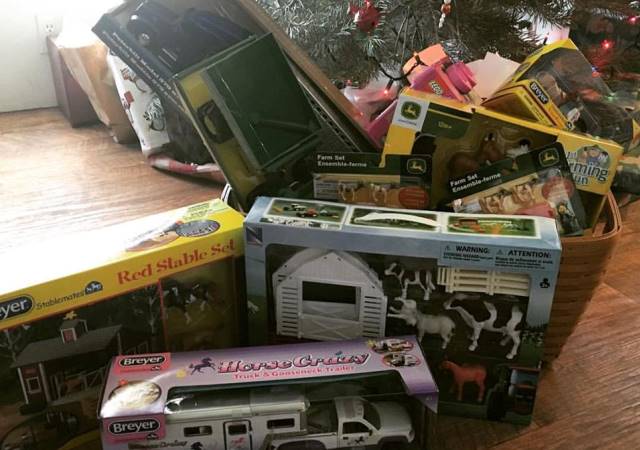 An animal rights activist tried to be the Grinch, but it backfired with the help of some kindhearted people who share rural roots.
This Christmas, children across the country will be unwrapping farm toys, thanks to several agriculture advocates.
Earlier this fall, animal rights activists attempted to have a toy livestock hauler removed from Walmart because it promoted animal agriculture. While the change.com petition never met its goal of 15,000 signatures, it did inspire folks in the farming community to take action for a noble cause.
Four agriculture advocates and bloggers (Diana Prichard, Carrie Mess, Katie Pinke, and Ryan Goodman) came together to start the Farm Toys For Tots campaign.
The toy program exceeded expectations with donations eclipsing the $5,000 goal set at the beginning of the initiative with 207 people contributing online.
Prichard shared how the campaign came about and the performance on her Righteous Bacon blog:
"We raised a total of $7,025, which came to $6,408.35 after GoFundMe's fees were deducted. I ultimately spent $6,422.37 on toys. 21 Elves across the country received 10 – 17 toys with a total value for each elf's complete order ranging between $255 and $372."

Here's a sampling of the Farm Toys for Tots posts we found on social media:
Happy to purchase these in conjunction with #FarmToysForTots. Purchased locally & donated locally. @katpinke pic.twitter.com/s8j4vy2S6H

— Shannon Family Farms (@ShannonFamFarms) December 15, 2015
This isn't a slaughter truck. Help us give farm toys this season. #FarmToysForTots. https://t.co/x21KDHoC9c #agchat pic.twitter.com/g2m1NzhBX7

— Ryan Goodman (@AgProudRyan) November 20, 2015

Looks like there will be plenty of children enjoying the same toys that many rural kids play with every day on their farms and ranches.
And, if you were wondering about buying one of those "slaughter trucks," they've sold-out online and currently have a five-star rating.