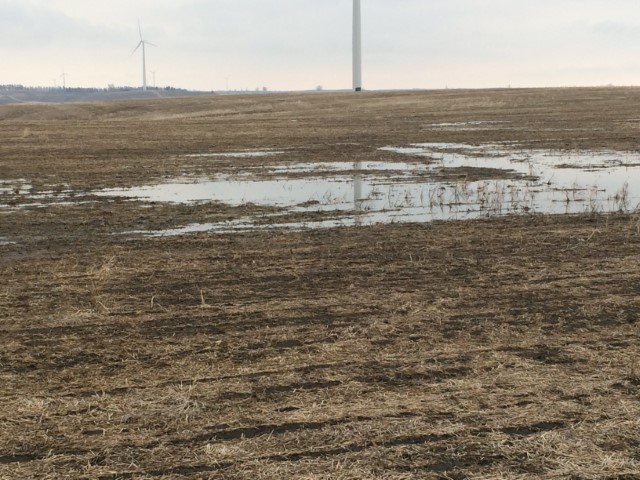 As farmers in the South are ready for planting season to begin, farmers in the Midwest are looking ahead, trying to see if they'll get to plant on time this year.  While farmers had a bumper crop, Mother Nature didn't cooperate for planting or harvest in the Eastern Corn Belt. Meteorologists think the growing season may begin just how harvest ended: delayed.
"It's probably going to be a late spring again for Central and Eastern Corn Belt, from Illinois eastward, at least," says U.S. Farm Report Meteorologist Mike Hoffman. "How late is the question."
Hoffman says temperature is much easier to forecast than precipitation, but he anticipates a cold, wet spring for the Eastern Belt, however, he doesn't think it will be as extreme as last year.
"At some point in late March or early April, we think this cold pattern will go away and warm up nicely, but it might take a while this year."
"We've seen some good snow from January to February stretching to Nebraska into the lower Great Lakes Region" says USDA Meteorologist Brad Rippey. "That has not only provided moisture in preparation to spring field work, but it's also help blanket winter grains."
The Western Corn Belt may be in a little different situation. Even though the area has received some moisture, right now, meteorologists expect the Plains to be drier than normal. 
"I wouldn't necessarily say the Western Corn Belt is going to have a late spring, because they've had mild air at times already this year," says Hoffman. "I think they will have a normal start. When we warm up, then they will really warm up, but I'm not sure how much moisture will be in the Northern Plains. I'm concerned about that."
"People say the Red River area is flooding, but if anything, it's the driest area in the Midwest in spring," says Rippey. "That's part of the Dakotas and Minnesota."
That dryness has become the norm in the Southern Plains.
"If we were to go into a dry spring or summer, this could lead into a fifth year of drought for some of those areas," says Rippey.
Hoffman is hopeful they'll finally see a change. 
"The Southern Plains has more of a chance to get moisture than the Northern part of the Western Corn Belt," says Hoffman.
Rippey says for most areas, soil moisture is sufficient heading into spring, but there are some exceptions.
"Those areas from Arkansas stretched into western parts of Tennessee and Kentucky," says Rippey. "They have been trending dry which will lead to some soil moisture shortages come spring. We do have some crops like winter wheat and soybeans to be concerned with across the northern Delta and stretching into the Mid-South. That's one area of concern."
As California heads into its fourth year of drought, meteorologists say the snow pact just isn't there.
The state received some rain this winter, but not enough to make a huge dent. 
"I think we will see the drought monitor improve a little bit between central and northern California," says Hoffman. "If you look at moisture, it's just not going to be there again."
"We won't pick up much moisture into the reservoirs," says Rippey. "As a result, we think the water cutbacks in 2015 could be as serious as we saw in 2014 when more than 10 percent of ag land was left fallow."
It's a much different situation in the Northeast, where record amounts of snow continue to fall across the area. Hoffman doesn't see much relief coming to that area, either, which will create a late spring, as well.