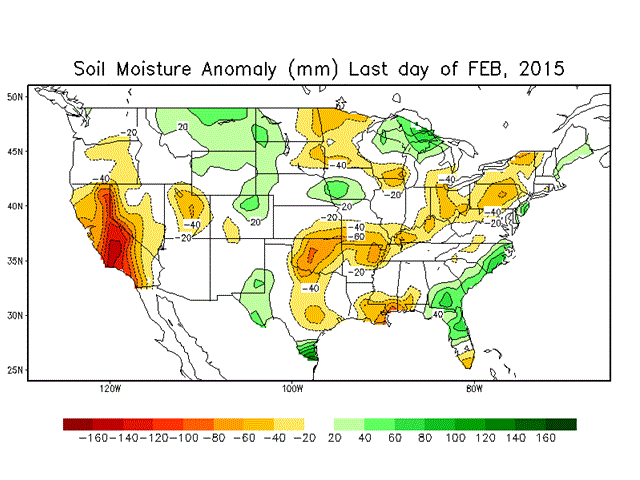 When it comes to spring planting in Great Plains states such as Nebraska, Kansas, Oklahoma and their neighbors Missouri and Colorado, weather is the top concern for the western part of this region.
With winter wheat breaking dormancy, the extent of winterkill or damage is a key question. Why? Because some wheat acres could be planted to spring crops. And, should an Arctic blast sweep down into Kansas and Oklahoma from now into mid-April, more acres would be affected.
The second worry is the lack of moisture. "This hasn't been a major concern with wheat and forages dormant, but it will become more important as they begin growing and using soil moisture," says Al Dutcher, Nebraska state climatologist.
In terms of moisture, the Climate Prediction Center shows soil moisture is modestly short in virtually all of Oklahoma, southeastern Kansas and the southern half of Missouri. Eastern Nebraska is slightly in the green.  (See map at top of story.)
In general, though, this area is in better condition than a year ago. "Subsoil moisture is good for most areas of the Western Corn belt (80%-plus of field tiles were reported to be running in fall 2014)," according to Elwynn Taylor, a professor of ag meteorology at Iowa State University. "It only requires an inch or so of rain to moisten topsoil down to the moist subsoil."
In addition, he says, "A weak El Nino supplemented by favorable conditions in the north Pacific Ocean may be sufficient to qualify 2015 as an 'El Nino growing season,' which carries a 70% chance of U.S. corn yield exceeding the trend (national trend for 2015 is 160.3 bushels per acre)."
Based on current conditions, Taylor estimates a national corn yield near 166 bushels per acre.
Aside from crop conditions, economics are, of course, a major part of decisions. In these states, dryland corn and soybean yields typically run below national averages, but Nebraska yields are above the national average because of widespread irrigation.
Missouri
Missouri acreage has been relatively stable the past three years: 3.6 million, 3.35 million and 3.5 million of corn and 5.4 million, 5.65 million and 5.65 million of soybeans.
However, Missouri wheat acreage has fluctuated, from 780,000 acres in 2012 to 1.08 million in 2013 and back down to 880,000 in 2014. USDA reports only 650,000 in the state this year. "Compared with a year ago, only 75% of winter wheat acres got planted," says Kelly Smith, marketing and commodities director at the Missouri Farm Bureau. "The other 25% can be planted this spring, and most likely will go to soybeans. Missouri also is a wheat/soybean double-crop state, so fewer wheat acres could mean fewer double-crop beans."
Smith adds that cotton acreage in Missouri's boot-heel will be down this year. "Cotton offers break-even at best," he says. "It takes a lot of money and time to raise cotton, and with prices where they are, soybeans offer cheaper inputs and a better chance to make a profit."
Kansas
Kansas farmers also may slant away from corn this year, according to Dan O'Brien, a Kansas State University Extension economist. "This may be a year of loss minimizing rather than profit maximizing," he says.
For those who want the numbers, be aware that KSU uses representative cash rents in its budgets whereas many Midwest universities leave land costs out of theirs. As a result, costs and breakeven prices may appear higher in Kansas. In addition, O'Brien looks at forward cash contract bids, not futures or futures with a standard basis adjustment.
With that in mind, O'Brien's calculations for south-central dryland acreage indicate corn breakeven at $4.48/bu., given a 94-bu. yield. Grain sorghum is $4.02 (also 94 bu. yield), soybeans $7.37 at 39 bu. and $8.58 at 31 bu. and wheat $4.96. Forward contract bids for harvest are $3.71-$3.86 for corn, $3.86-$4.16 for sorghum, $8.64-$8.90 for beans and $5.20-$5.38 for wheat.
In western Kansas, on irrigated land, there is a strong advantage for corn because of its stronger yield response, although all of the crops mentioned fall short of total costs.
Josh Roe, assistant secretary of agriculture in Kansas, notes that crop rotation may prove to be another key variable for Kansas farmers. Depending on where farmers are in their crop rotation, what agronomic choices they've made over the fall, and what inputs they may have pre-purchased, producers may not realistically be able to change their crop choice.  
Growers may also have other considerations. "Relatively reduced feed input costs reduce production costs for livestock. Hay prices have declined from high points two years ago, but the price correction has been smaller compared with grains," Roe says. "If producers are in an area where drought conditions are predicted to persist, they may choose to plant crops that require less water such as grain sorghum or wheat."
Oklahoma
In Oklahoma, Kim Anderson thinks there will be some acreage changes.
"I expect a shift from corn acres to sorghum and soybeans," says Anderson, an Extension economist at Oklahoma State University. "First, corn prices are below the costs of production, while soybean prices are still above the cost of production. In addition, Oklahoma corn tends to have an aflatoxin problem. Third, sorghum is more drought-tolerant than corn. Finally, China's shift to purchasing sorghum rather than corn has resulted in a 40 to 50 cent improvement in the price of sorghum relative to corn," he says.
Colorado
In Colorado, although the Northeast has slightly above normal soil moisture, the four-year drought will continue to play a major role in the state.
"The 2012 drought took out a lot of corn dryland that won't come back, barring a return to more plentiful water supplies," says Stephen Koontz, an Extension economist in the Department of Ag and Resource Economics at Colorado State University. "Farmers have even cut back on wheat acres. Now, most dryland farmers are in a rotation that includes fallow and that is unlikely change." On irrigated land, corn, hay or even beets play a role.
Overall, Koontz sees this year shaping up much like last year. "I think we'll see a bit of switching out of corn, but it will be to a little more of lots of things--dry beans or sunflowers, for example." Grain sorghum is an option but only in areas where there's a specific market for it, such as the southeast part of the state, according to Koontz.
Fellow CSU economist Norman Dalsted agrees. "I don't think we'll see a lot of change in cropping, especially for irrigated land," he says. "Colorado is a corn-deficit state with strong demand from livestock and ethanol plants. A little irrigated land may switch to alfalfa because that market is strong, but not a lot. The dryland area in the southeast part of the state may plant more milo, but I don't know how much."
Hay remains a good crop for Colorado. "We have good demand from beef and dairy herds and a lot of our hay goes to California," Koontz adds. "The story in hay markets is quality."
Overall, it seems shifts will be minor in these states and given most rank below the top five in corn and bean production, with the exceptions being Nebraska (number 3 in corn) and Missouri (number 5 in soybeans), what shifts do occur will not greatly influence national production. 
2015 Spring Planting Preview: Great Plains
States: Missouri, Nebraska, Kansas, Oklahoma and Colorado
Top Contender: Soybeans, dryland; corn, irrigated
Sleeper: Hay
Factors to Watch: Possible lost winter wheat could open some acres; soil moisture is always a concern in parts of this region. Watch for small shifts to "a lot of little things" outside the big eight crops.