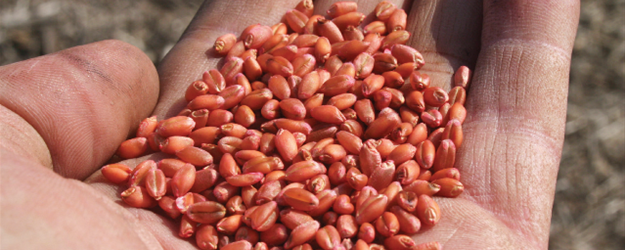 Seeding rate might sound like a routine management decision for wheat growers but don't discount its importance in maximizing profitability, says Nathan Mueller, South Dakota State University (SDSU) Extension agronomy specialist. Mueller and fellow SDSU Extension agronomists have been researching spring wheat seeding rates since 2010.

"This research showed a seeding rate of 1.2 million pure live seeds (PLS) per acre maximized yields in three out of four years," he explains. "The 2.3-bu.-per-acre increase in yield in 2012 would have covered the cost of increasing the seeding rate from 1.2 million to 1.8 million PLS per acre in that year. However, averaged over the past four years, profit per acre was slightly reduced by increasing seeding rates above 1.2 million PLS per acre."

Assuming an average germination of 95% viable seed with a purity of 99%, growers can hit the 1.2 million PLS mark (28 PLS per square foot) by planting 1.3 million seeds per acre. Informal surveys have suggested that most spring wheat growers typically plant more than that, between 1.5 million and 1.8 million PLS per acre, Mueller says.

As seeding rate increases, the number of heads per live seed planted decreases. At lower seeding rates, plants increase the number of seeds per head and produce larger seeds.

"With good seedbed conditions and normal planting dates, 1.2 million PLS per acre will achieve yields equal to higher seeding rates because spring wheat plants can adjust yield components with the resources available," Mueller says.