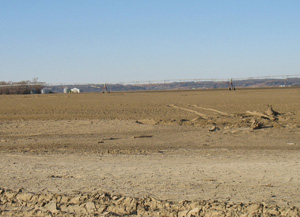 Planting season is inching closer. Jerry Gulke talks weather, market movement and acreage estimates.
Some farmers are finally starting to see signs of spring. The middle Mississippi Valley saw temperatures reach 70°F this week, and warm weather lingered Texas to Kansas. In the South, warm and dry weather favors some spring fieldwork, at least where soil conditions are acceptable, according to USDA's Ag Weather Highlights.
But, the spring-like weather is forecast to be short-lived. A rather tranquil weather pattern will become more active during the weekend, with rain developing across the South and cold weather returning to nearly all areas east of the Rockies. Snow is also predicted early next week from the northern Plains into the Midwest.
The National Weather Service's outlook for March 26-30 calls for below-normal temperatures across the eastern half of the U.S., while warmer-than-normal weather will prevail from California to the central and southern High Plains. Meanwhile, near- to above-normal precipitation across most of the country will contrast with drier-than-normal conditions from the central and southern Plains into the Southwest.
NOAA's Spring Outlook report shows the potential for flooding in the Midwest and drought conditions in the Southwest.
"Most of the forecasters are saying we could be in for a late spring," says Jerry Gulke, president of The Gulke Group. "That's not really a surprise, and I'm not sure if a late spring really bothers us because we've had several years where we've planted a crop late and still got a crop."
As of now, Gulke says, some private forecasters are saying the spring of 2014 could mirror 2013's. "That remains to be seen," he says. "I think we'll have a better handle on things by next week. This is the time of year where we transfer from winter to spring – so it's always kind of volatile."
Hear Gulke's full audio analysis:
The Weather's Impact on Acreage Mix
USDA will release its Prospective Plantings report on March 31. How will the current weather forecast affect farmers' planting plans? Gulke says since planting has happened at such a rapid pace the last few years, he doesn't expect the market to be nervous just yet.
"I'm interested in seeing what farmers told USDA on what they intend to plant this year," Gulke says. "Remember, last year we intended to plant a lot of acres last year and Mother Nature didn't let us. I think we intend to plant just as many acres this year as last year, it's just maybe a new mix."
Gulke reminds that the Prospective Plantings report is generated from survey results, not a statistical model and that intentions evolve due to weather. "By the middle of June we'll know if our acres were planted on time or not," he says.
Read more March 31 pre-report news and analysis.

...........................................
Have a question for Jerry? Contact him at 815-721-4705 or [email protected].
Gulke Group is hosting a workshop about technical analysis, as well as a outlook conference March 25-26 in Chicago, Ill. For more information, visit www.GulkeGroup.com.
For More Information  
See current market prices in AgWeb's Market Center.
---