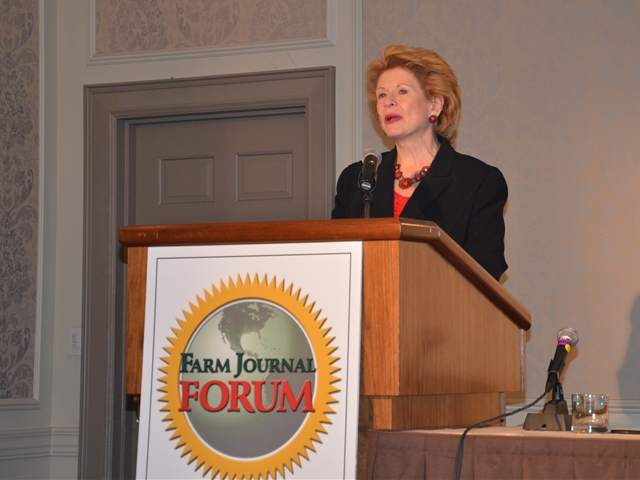 In an increasingly politicized environment in Washington, Senator Debbie Stabenow (D-Mich.) said the agriculture community deserves credit for its cooperative spirit.
"Since agriculture came together and did its job, the 2014 Farm Bill is law," said Stabenow, speaking Thursday at the Farm Journal Forum in Washington, D.C. "Now we have the certainty of a five-year economic policy … which in the world we live in is very significant."
She was speaking in terms of the uncertainty of politics, of course—farmers at this moment are still waiting to hear whether Congress will retroactively extend the Section 179 tax break for 2014, just weeks before the calendar year ends.
But Stabenow also acknowledged the inherent unpredictability that farmers face every growing season. "Nobody else has to worry about [weather] when they put together their business plan," said the senator, who highlighted how the new Farm Bill enhances risk management tools for growers and ranchers, including conservation options, over a longer term.
Listen to an excerpt of Senator Stabenow's remarks here:
In addition, she noted how the legislation also expands access to fresh and healthy food in many communities by providing more funding for local food systems. "This connects the prosperity of farmers and the health of consumers," Stabenow said.
She said that making progress on other key issues important to farmers—child nutrition, world hunger—will require similar collaboration in the months ahead as a new Congress takes office in January. "Our agriculture coalition offers the best hope of getting things done," Stabenow said.
After all, Stabenow noted: "If there is a lesson in the Farm Bill, it is that success comes from a broad coalition of interests."