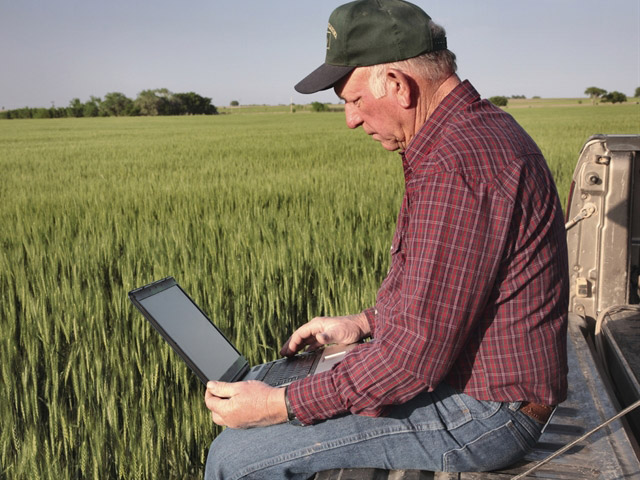 A major agreement between farm groups and agricultural technology providers should allay some of farmers' concerns about the growing volume and detail of data being collected on their farms.
"This is a brave new world we are in," said American Farm Bureau Federation President Bob Stallman, speaking on AgriTalk after the news was announced Nov. 13. "Some of this new technology is amazing. It holds great promise for American agriculture—maybe even as much as mechanization did. But at the same time, there were a lot of concerns for producers, because it involves turning over your personal data."
Their worries are understandable. Precision agriculture technology, which can involve everything from computerized crop yield data to GPS to drones, offers vast practical applications for farmers, who can use the data to make better crop decisions. But it's also a type of technology that is growing fast—one report suggested the precision ag market could be more than $4.5 billion worldwide by 2020—and uncharted implications for farmers' physical and financial privacy.
Under this agreement, thought, farmers clearly own their information. "This seems simple, but the reality of modern farming makes this statement more complicated," attorney and former farmer Todd Janzen pointed out on his blog. " A farmer owns their data, sure, but who is the 'farmer' when, for example, a retired farmer leases his land to a neighboring farmer on a crop share arrangement?  This principle establishes the baseline default principle—the person who farms the land owns the data generated by their farming activities."
"We've got the innovators, but even the early adopters were saying, 'You know, until I know who owns this data and how it's going to be used, I think I'm going to hold back for a little while,'" said Chip Flory, editorial director of Pro Farmer, also speaking on AgriTalk. "This kind of agreement is going to ramp up the acceptance of the new types of technology that's out there and available."
Stallman agreed. "It just creates a greater comfort level in the minds of farmers," he said.
Listen to the full AgriTalk conversation on big data with Bob Stallman here:
Major firms have signed onto the effort, including Beck's Hybrids, Dow AgroSciences, John Deere, DuPont Pioneer, Raven Industries, and Monsanto's The Climate Corporation. So have large farm groups, such as the American Soybean Association, the National Corn Growers Association, the National Association of Wheat Growers, the National Farmers Union, the USA Rice Federation, in addition to Stallman's group.
Called "Privacy and Security Principles for Farm Data," the agreement essentially outlines the expectations for handling that data for both farmers and agricultural technology providers.
For example, farmers will retain ownership of their data, but agree to share that data with relevant parties: landlords, co-ops, tenants, and the ag technology companies involved. Farmers must consent to any collection, access, or use of their data by the ag tech companies, and those companies must also tell farmers how they expect to collect, use, or share that data. If the company wants to share or sell farmers' identifiable information, they must give farmers the chance to opt-out of disclosing that data.
The principles also offer a roadmap for farmers who may want to make some changes to their precision farming practices. According to the agreement, farmers who change ag tech providers should be able to retrieve their farm data for use in another system. That data also can't linger in that ag providers' databases forever; companies need to permanently erase those farmers' information upon request or after a certain amount of time.
It's not perfect, but it is a start, according to Stallman. "Frankly, there's a lot of nervousness about 'the cloud' holding all your data, including geospatial data. It doesn't take a rocket scientist to make that [GPS data into] personal data real quickly," he said. "The concern about privacy is real."