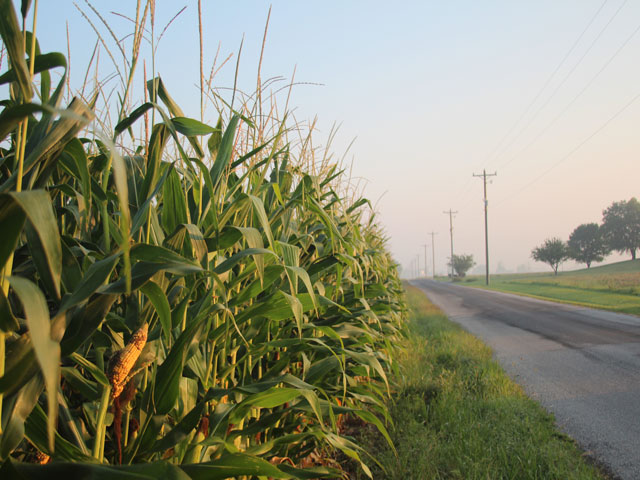 What can scouts and the market expect to see from the 2015 Pro Farmer Midwest Crop Tour? Agronomists and farmers weigh in on the seven key corn and soybean states that will be covered this year. Check back as we add new previews daily in advance of the tour, which begins Aug. 17 and ends Aug. 20.
---
By Chris Bennett
Soybeans in Ohio are showing a great deal of variability after a drenching June brought record-breaking rain frequency in central Ohio.
---

By Alison Rice
In South Dakota this year, the crops—especially corn—are in good shape as the 2015 Pro Farmer Midwest Crop Tour begins.
---
By Alison Rice
Where will scouts find the best corn and soybean crops in Nebraska in 2015? The northeast and north central sections of the state. 
---

By Ben Potter
Some years Mother Nature is kind, and other years she leaves you fighting for every bushel. In Indiana, the latter has been true for most of the state in 2015.
---
By Ben Potter
Rain makes grain–for the most part. But volatile weather always brings variable crops. That's what 2015 Pro Farmer Crop Tour scouts are certain to see in Illinois, promises University of Illinois Extension specialist Emerson Nafziger.
---
by Sonja (Gjerde) Begemann
When it comes to soybeans, "six of the nine crop-reporting districts will be at least as good as last year," says Mark Johnson, Iowa State Extension field agronomist. "Those other three won't do as well."
---
By Chris Bennett
Minnesota corn growers could be in for one of their best years ever, according to Jeff Coulter, Extension corn specialist, University of Minnesota. Corn was planted early and is about seven to 10 days ahead of normal crop progress.
---
Follow the tour on Twitter with the hash tag
#pftour15
.