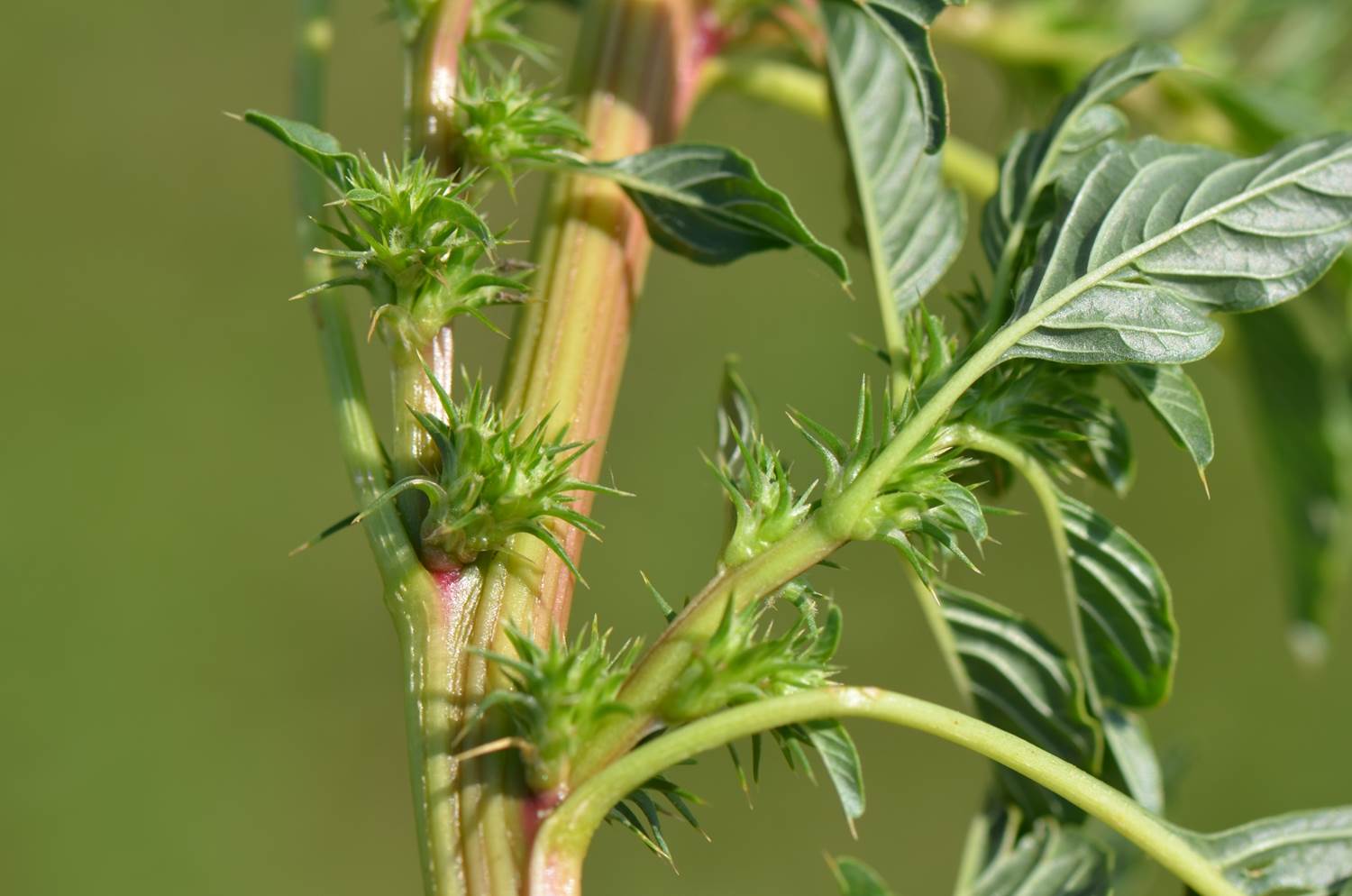 As farmers across the Midwest prepare for postemergent spraying, southern states report new dicamba formulations won't be a silver bullet to all weeds. Palmer amaranth's resilience is proving to be more challenging than farmers expected and begs for farmers to follow the less than 4" guideline.
"What I can say is that the perception many have that dicamba will control Palmer amaranth like Roundup did in 1996 is causing a lot of disappointment," says Larry Steckel, University of Tennessee Extension in a recent blog post. He's heard similar sentiments from colleagues in Arkansas and Georgia.
His field visits show applications when weeds are 2" to 4" and a few near the 6" show only 50% Palmer amaranth control in some areas. Survivors were twisted and took a couple weeks to begin growing again after application, Steckel says. "In our research a sequential application of Engenia, Xtendimax or Liberty (in Xtend cotton) about 14 days after the first dicamba product application removed all the crippled pigweed."
Engenia, FeXapan and Xtendimax labels explicitly state weeds should be no more than 4" tall for maximum control. Because Palmer amaranth can grow up to 2.5" per day in certain conditions it's important to scout frequently and spray herbicides as soon as weeds emerge. Residual herbicides can extend control.
What do you do about Palmer escapes? In cotton, follow dicamba with Liberty, and in soybeans the only option is Engenia, FeXapan or Xtendimax, according to Steckel. "If you want to get good Palmer amaranth control with one application target one to two inch Palmer—if you wait until some pigweeds are four inches tall plan on having the sprayer back to the field in two weeks."
States with Herbicide Resistant Palmer Amaranth

---
Decode Site of Action When Planning Herbicides
Site of Action

Trade Names

ACCase Inhibitors (1)

Discover NG, Clincher, Ricestar/Tecoma, Fusilade DX, Assure II/Targa, Select Max, Poast, Poast Plus, Axial XL, Puma

ALS Inhibitors (2)

Raptor/ Beyond/Clearmax, Plateau, Scepter, Pursuit/Newpath, Regiment, Staple, Everest/Pre-Pare/Sierra, Olympus, Varro, Londax, Classic, Glean, Permit, Autumn, Osprey, Ally, Accent Q, Strada, Beacon, Peak, Resolve, Matric, Maverick, Harmony, Amber, Express, Envoke, UpBeet, FirstRate, component of Orion, Python/Accolade, Grasp, PowerFlex HL

EPSP Synthase Inhibitor (9)

Roundup, Touchdown

T1R1 Auxin Receptors (4)

Quelex, Banvel/Clarity/DiFlexx, Stinger, Starane, Grandstand, Facet/Paramount, 2,4-D, MCPA, Status

Auxin Transport Inhibitor (19)

Component of Status- sold only in combination with dicambia

Photosystem II Inhibitor (5)

Betenex, Aatrex, caparol, Princep, Velpar, Metribuzin, Sinbar

Photosystem II Inhibitor (6)

Basagran, Buctril

Photosystem II Inhibitor (7)

Super Wham, Direx/Karmex, Cotoran, Lorox/Linex

Glutamine
Synthetase
Inhibitor (10)

Liberty

Phytoenedesaturase Inhibitor (12)

Sonar

DOXP Synthase Inhibitor (13)

Command

HPPD Inhibitors (27)

Balance Flexx, Armezon/Impact, Callisto, Laudis

PPO Inhibitors (14)

Spartan, Aim, Cadet, Ultra Blazer, Flexstar/Reflex, Cobra/Phoenix, Resource, Valor, Sharpen

Photosystem I
Electron Diverter (22)

Reglone, Gramoxone SL, Paraquat

Microtubule Inhibitors (3)

Kerb, Sonalan, Prowl, Treflan

Lipid Syntesis (8)
Inhibitor

Sutan , Ro-Neet, Eradicane/Eptam, Bolero, Far-Go

Very Long Chain Fatty Acid Inhibitors (15)

Degree/Harness/Surpass NXT/Topnotch/Warrant, Intrro/Micro-Tech, Dual Magum, Outlook, Define, Zidua

Specific Site Unknown (16)

Norton

Nucleic Acid Inhibitor (17)

MSMA