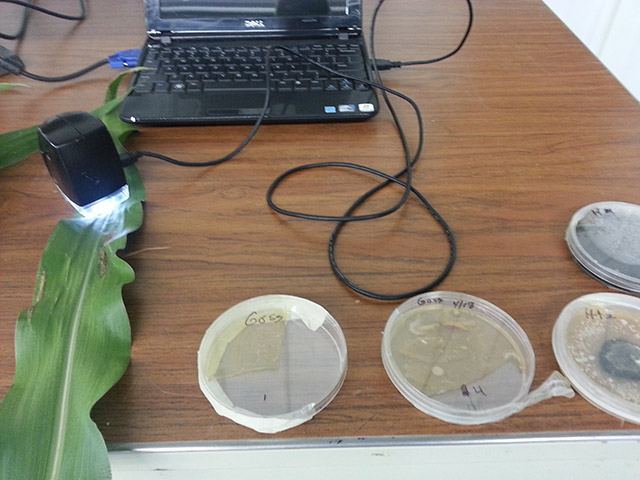 Proactive management and a systems approach will deliver the most profitable results.
See a corn disease, spray it with a fungicide. It's that simple, right? Not necessarily, says Farm Journal associate agronomist Missy Bauer.

"Too often, I feel like when we have a big blow-up of some disease, we tend to be reactive," Bauer says.

A more proactive, systems management approach is a much better way to address disease management, Bauer told a group of more than 100 retailers and consultants at the 2013 Farm Journal Corn College, held in Heyworth, Ill., on July 15.

A proactive approach begins with understanding the components of the disease triangle and the disease cycle, Bauer says.

The disease triangle has three basic components: pathogens, conditions and a host. Disease will only occur with all of these three factors working together, she says.

The disease cycle follows seven basic steps: inoculum produced, dispersal, infection, colonization, symptoms, production of survival structures and survival.

"The good news is, you can interrupt the disease cycle through management practices," Bauer says.

Spraying a fungicide is one obvious solution, but Bauer says four other management practices can have a big impact on disease pressure:

1. Hybrid selection – each hybrid has varying susceptibility for common corn diseases.

2. Weed and insect control – weeds can host certain diseases, and insect feeding can vector certain diseases.

3. Cultural practices like rotation and tillage can affect overwintering populations.

4. Reducing plant stress through plant populations, row spacing and other methods. For example, row spacing can affect humidity levels within the canopy, which in turn alters how well a given disease can thrive.

Understanding how all of these factors can influence disease is a fundamental of the systems approach. Farm Journal field agronomist Ken Ferrie notes that the systems approach is holistic but should be tailored to the specific needs of each individual field.

"You can't put in the same system across the board," he says. "The same practices don't fit everybody."

A systems approach might sound intimidating to some, but it doesn't have to be, Bauer adds.

"You don't have to know it all, but you need to know when and where to find the information you need," she says.
....................................
Thank you to the 2013 Corn College sponsors:
AgriGold, BASF, Chevrolet, ESN/Agrium, Great Plains, Honeywell, Koch, Novozymes, Precision Planting, SFP, Top Third Marketing