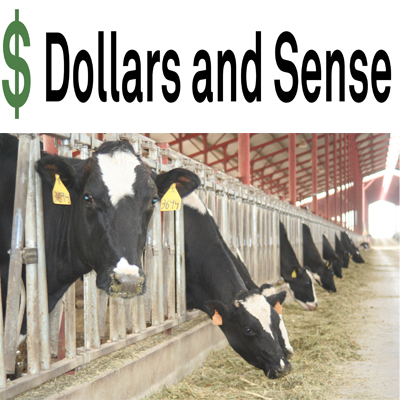 Rendell Tullar
Orford, N.H.
Tullando Farm, a 550-cow herd of registered Holsteins in the Connecticut River Valley, is up and running with eight new robotic milking systems.
 
---
We have used a variety of risk management tools to operate Tullando Farm over the years. Much of this involves the management of our herd rather than the financial hedges, investment and insurance programs.  These practices have been more in our comfort zone and have let us rely on good management to achieve. 
We have built extra bunk space so that we can maintain four to six months of feed inventory. (We just experienced such a time with a third less corn crop in 2013 and a total loss of our alfalfa crop in 2014.)
Another example of our management success is the 99% survival rate of our heifer calves and having them ready to produce at 21 to 22 months of age. This allows for plenty of replacements for our herd and numerous cattle to sell to dairies. 
With the new addition of our transponders, we are hoping to reach a higher percentage of pregnancies from the high genomic and top-proven sires from around the world. 
We are working with crop and nutrition consultants to grow and harvest the highest quality crops that we can. 
Stepping up our expertise to address risk management, we have for many years tried to cap our cornmeal and soybean purchases. More recently, we have started looking at milk hedging and have attended seminars to learn about the Margin Protection Program and Livestock Gross Margin for Dairy Program to understand how they might benefit our management practices. 
Rodger's recent prices
Milk
$25.77 (3.61 bf, 2.87 prt)
Cull cows
$92/cwt.
Springing heifers
$2,500/head
Cornmeal
$205/ton
Soybean meal
$495/ton