Exports might enable an end run around the blend wall 
This has been a tough year for ethanol policy. The Environmental Protection Agency is likely to reduce the ethanol mandate, and the oil industry and its allies in Congress are mounting a full-court press against the renewable fuels industry. Yet optimism reigns in the ethanol camp, with some estimates of a new production record and newfound hope in exports.  

The Renewable Fuels Association (RFA) estimates 2014 production will reach 14.2 billion gallons, eclipsing the previous record of 13.9 billion in 2011, and surpassing 2013's 13.3 billion gallon mark by 900 million gallons. Largely due to exports, "even 14.5 billion gallons is within the realm of the possible," says Wallace Tyner, ag and energy economist at Purdue University. 

Technically, the blend wall is a reality at 13.8 billion gallons, but exports offer a way around it, Tyner says. 

In March, the U.S. exported 84 million gallons of ethanol, the most since December 2011, when 172.7 million gallons headed to foreign shores. Exports have declined somewhat in recent months, but at year-end, total ethanol exports are estimated to be 800 million to 1 billion gallons. That means ethanol exports alone could use 400 million bushels of corn.

A need for fuel. Chad Hart, ag economist at Iowa State University, says ethanol exports are not a short-term phenomenon. China is expected to increase liquid fuel usage 222% from 2007 to 2035, followed by India, 168%, and Africa, 148%. 

"China has a pollution problem," Tyner adds. "It needs a clean fuel." 

The U.S. has also seized markets formerly held by Brazil. Ethanol output in Brazil is forecast to be down 8% this year due to a drought in its cane belt, Tyner says. The Brazilian real (its currency) has appreciated, which is an advantage for the U.S. and a disadvantage for Brazil, he adds.

As for major customers, two countries represented 57% of U.S. ethanol exports through April: Canada, 37%, and Brazil, 20%. In a surprising third, the United Arab Emirates bought 9% of U.S. ethanol exports. A growing host of countries are importing ethanol thanks to a 75¢ cost advantage relative to gasoline, according to RFA.

The global market for U.S. ethanol is growing by 2% to 3% per year, says Todd Becker, president and CEO of Green Plains, an ethanol producer. "More countries are putting renewable fuel standards in place." 

While Brazil has been the world's top ethanol exporter most years, Becker sees a sea change in the global market. "At $4 corn, we produce 9¢ per pound sugar, about half the world sugar price of 17.6¢ per pound," he notes. "That allows U.S. ethanol to compete head to head with Brazil."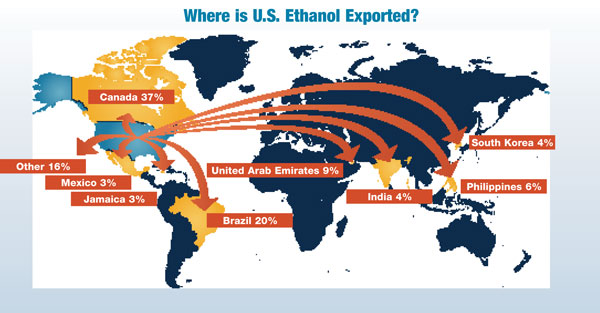 U.S. ethanol exports are projected to reach as much as 1 billion gallons in 2014. Ethanol production is forecast at 14.5 billion gallons.
---
For a quick look at how the ethanol export/import net balance has rebounded from year-ago levels, visit www.FarmJournal.com/ethanol_exports