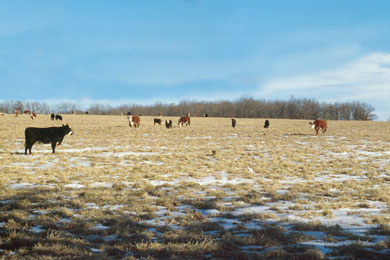 Contact your local Extension agent to determine which grasses are best suited for stockpiling. Weather and soil conditions will play a role in how many acres you need to stockpile.


As fall approaches, producers are thinking ahead to what they will feed during winter. With thoughtful management, you can feed your cows a high-quality diet while the snow flies.

Stockpiling is a form of deferred grazing that reduces hay feeding in late fall and early winter, says University of Missouri plant science professor Craig Roberts.
"Pasture is the cheap source of feed. You always want to go back to it, because it's also the best way to put pounds on a calf," he says.

In general, tall fescue pastures are the best choice for stockpiling forages, adds David Davis, superintendent of the University of Missouri's Forage Systems Research Center in Linneus, Mo.

"Fescue holds up best during winter and produces a lot of fall growth, unlike other cool-season grasses," Davis says. "It's really hard to beat on tonnage or quality. Other cool-season grasses can be stockpiled, but you're giving up something on yield."

Fescue is a grass that can really withstand a lot of snow, trampling and wet weather and still retain quality, Roberts adds. In contrast, orchardgrass is best stockpiled when it is grazed before snowfall.

Davis notes that just about any grass can be stockpiled. The difference is how well it will hold up to winter weather. Reed canarygrass, for example, is not a good option to stockpile because cows reject it once frost hits and it goes dormant in the fall.

Warm-season grasses are undesirable because they don't grow much in the fall and their quality deteriorates. Roberts discourages beef producers from stockpiling bluegrass since it is used for horse forage.

Bromegrass can be an option. "It's a cool-season grass, but doesn't have a lot of fall growth," he says.

Rarely, however, do you have a single grass species in a pasture.

"Not all pastures are created equal," Davis says. "You'll have bromegrass, bluegrass, orchardgrass and other cool-season grasses in there, but for stockpile pastures the majority of the grass should be tall fescue. Fescue tends to protect other grasses from winter weather and it is the grass that will do best for stockpile in Missouri."

Pasture management. Pastures should be good stands of fescue, weed-free and grazed or hayed down to 3" to 4" stubble height in order to be good candidates for stockpiling, Davis says. He encourages producers to pick fields with lots of growth potential in order to get the greatest yield in the fall.

Both experts agree that fertilization of stockpiled pastures should occur in the beginning of August, when 50 lb. to 80 lb. of nitrogen should be applied.

If pastures haven't been fertilized when growth begins in September, fertilizer can be applied, but only apply 25 lb. to 40 lb. of nitrogen. The nitrogen will help the pastures yield, but potential for maximum yields is gone without the extra three weeks of growth.

"You want to get all the growth you can when it starts," Roberts says. He adds that fertilizing late will help pasture growth to some extent, but producers may not get all their money's worth.

"Cooler fall temperatures along with precipitation cause good fall grass growth," Davis says. "November and December is when most producers start grazing stockpiled forages and that coincides with the cessation of grass growth and yield stops accumulating. If there's enough stockpiled grass, you may be able to graze until the grass turns green in spring. But typically producers run out of stockpile in January, then turn to feeding hay."

How to plan. Davis says that stockpiled forages are usually better quality than most hay, higher in protein and energy than the average Missouri hay.

"Cows usually need to consume 2.5% to 3% of their body weight in forage every day, and under good management cows will only utilize 75% to 80% of stockpiled forage," Davis says. From those rules of thumb, producers can come up with a tonnage figure to know how much stockpiled forage to allocate to their herd.

"Farmers learn really quickly that if they underestimate pasture yield or amount of cows' consumption, cows will be at the fence bawling," Davis says. "It's always a learning process and adjustments need to be made after a few days of allocation."

That learning process includes knowing how many acres of pasture to stockpile. A small acreage can be trampled down fast if the winter is very wet, Davis says. If the weather is dry and the ground is frozen, putting a large number of cattle on a smaller acreage may not be a problem.

"It depends on the weather and soil conditions," Davis says. In addition, stockpile allocation should start at the water source and continue away from the water without backfencing—then cattle use increases everytime more pasture is opened up. "They can loaf or lay around on what they've already eaten," he says. BT