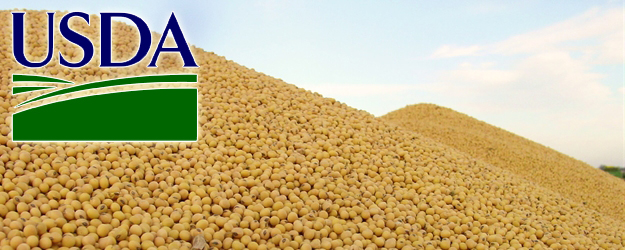 The old adage that big crops keep getting bigger is proving true this year. USDA's forecast for ending stocks of corn was substantially higher than expected, and soybean stocks are mounting as well, according to July's World Agricultural Supply and Demand Estimates (WASDE).
"Certainly, it is a sobering report," says Jim Bower, president of Bower Trading in Lafayette, Ind. Bower was the commentator on a post-report MGEX press call.
New-crop projected corn ending stocks are more than twice as large as last year, and soybean ending stocks are three times as large as last year.
"There seems to be an air about the market to let the commodity markets skink lower. There's a psychology globally that we are adequate in supplies," says Bower. "We will probably make our lows earlier in the market than we usually do."
Beans Piling Up
USDA appears to have found a significant amount of old-crop soybeans, raising the ending stocks figure from June's 125 million bushels to 140 million, much higher than the anticipated 128 million.
"That 140 number was one of the most negative in the report," says Bower.
USDA estimates U.S. soybean production at a record-high 3.8 billion bushels, up 165 million bushels from June due to an increase in harvested area. Harvested area, forecast at 84.1 million acres in the June Acreage report, is 3.6 million above the June WASDE forecast.
USDA left the soybean yield unchanged at 45.2 bushels per acre. This year's record crop is expected to generate ending stocks of 415 million bushels, slightly lower than the average trade guess of 418 million but 90 million bushels higher than last month's estimate. Ending stocks are up a whopping 28 percent from last month's WASDE report.
USDA lowered its seasonal average forecast for new-crop soybeans by 25 cents to $9.50 to $11.50 per bushel, with a midpoint of $10.50 per bushel.
Following the report, both corn and soybean prices sank on the Chicago Board of Trade.
Corn Not a Record...Yet
USDA expects corn production to be 75 million bushels lower that what the June 30 Acreage report indicated due to a decrease in harvested acres. USDA left its projected national average corn yield at a record-high 165.3 bushels per acre.
"Favorable early July conditions and weather support an outlook for record yields across most of the Corn Belt," says USDA in this month's WASDE report. "However, for much of the crop, the critical pollination period will be during middle and late July."
Analysts note that two-thirds of the nation's corn crop still needs to pollinate, which will occur over the next two to three weeks. If all goes well, average corn yield could easily hit 166 or 167 bushels per acre.
"The market is telling us that corn yield will be higher," says Bower.
USDA forecast corn production at 13.86 billion bushels, just 65 million bushels below last year's record-high production. USDA reduced feed and residual use of corn by 50 million bushels based on lower production and higher projected feeding of sorghum.
Projected new-crop ending stocks of corn were higher than expected at 1.8 billion bushels, up 75 million bushels from June's report due to higher beginning stocks and lower feed use. Higher ending stocks more than offset the decline in production.
The average trade estimate heading into the report for new-crop ending stocks was 1.774 billion bushels, 1.5 percent lower than USDA's projection.
USDA lowered its projected seasonal average corn price by 20 cents to $3.65 to $4.35 per bushel, which puts the midpoint at $4 per bushel.