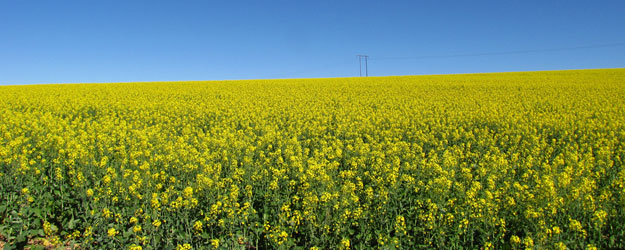 Canada's bumper 2013 crop year has translated into record-high or near-record high stocks of canola and wheat, according to Statistics Canada's stocks of principal field crops report released Monday, May 5.
"The report is what people were expecting," says Bruce Burnett, weather and market analyst with the Canadian Wheat Board. Burnett was the commentator on an MGEX post-report conference call.
Canada's massive crops are also moving into export channels after a long delay caused by a shortage of rail cars.
"With the warmer weather, we have seen improved rail performance, which is now back to normal levels," says Burnett. "But there is still a huge backlog of orders. The next key in terms of the Great Lakes is to see boats arriving in the Thunder Bay terminal."
As of March 31, stocks of wheat, canola, corn, barley, and oats in Canada were all higher than the previous year. Only soybean stocks were lower.
Twice as Much Canola
Last year's record-high canola production has translated into stocks that are at an all-time high of 9 million metric tons—double the volume held last year. On-farm canola stocks of 7.8 million metric tons were 143 percent larger than a year ago, and all three of Canada's prairie provinces reported record on-farm canola inventories. Commercial stocks of canola were 9.8 percent lower than last year.
Total wheat stocks of 21.3 million metric tons were 46.9 percent larger than a year ago, and on-farm stocks of wheat were substantially higher as well, up 72.5 percent from the previous year. Commercial stocks of wheat were 11.3 percent lower. Alberta farms were holding record-high wheat stocks of 5.2 million metric tons. Excluding Durham, Canadian wheat stocks are at their highest level since 1994.
Canada's transportation issues, which caused back-ups at the elevator level, have pushed back producer contracts and payments.
Back-ups Hurt Cash Flow
"Farms don't have great cash flow right now or enough cash to put the crop in the ground," says Burnett.
Similar to soil conditions in the United States, Canadian soils are still too cold and wet for planting. Burnett does not expect planting to pick up until mid-May.
"There has been some progress in southern Alberta and southwestern Saskatchewan," says Burnett. He expects the stocks report to have little or no impact on planting decisions, and notes that any shifting that occurs will be due strictly to weather.
Corn stocks of 8 million metric tons were 18 percent larger than last year. Barley stocks of 4.3 million tons were 42.8 percent larger, and inventories of oats were nearly 60 percent bigger.
Stocks of oats are barley are "heavy," but not out of the ordinary, according to Burnett.
Only soybean stocks were smaller than the previous year, down 13.6 percent from March 31, 2013, at 1.2 million metric tons. The decline in soybean stocks occurred despite a 2.2 percent increase in production last year.