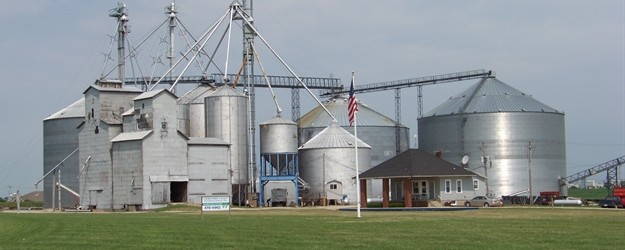 Despite excess U.S. capacity of 1 billion bushels, many states will face a deficit
Record crops and transportation bottlenecks are straining the nation's grain storage system in a way that hasn't been seen in nearly a decade. That means low grain prices and wide basis. 

Yet producers such as Randy Fleishauer, who farms in the Corn Belt's northwestern fringe where problems are particularly acute, aren't content to quietly accept their fate. They're taking action. 

"I could see the handwriting on the wall this summer. The elevators were full up and couldn't take any more," says Fleishauer, who grows wheat, milo and field peas at Gunsmoke Farms near Ft. Pierre, S.D. "I had room for 750,000 bushels of wheat, but I had another 800,000 that had to go somewhere."  

His solution: a grain-bagging system that can wrap up 1 million bushels of grain at a low cost. 

"They work great," Fleishauer explains. "I had 21 combines running with two baggers." Costs per bushel are in the 7¢ range, excluding the bagger, unloader and additional long-term investments.

"Is grain going to be stored on the ground? Yes," says Frayne Olson, ag economist at North Dakota State University. In North Dakota, producers will wait to see whether the state has sufficient storage for crops bigger than anticipated. Including on- and off-farm bins, the state has capacity of 1.3 billion bushels, nearly equal to the expected harvest. Throughout the heartland, producers face a similar reality.
Strains Vary. Compounding the problem is that some old crop still needs to be moved through marketing channels—a challenge because of high demand for railroad lines.  

Additionally, farmers in some states are only partially filling bins to avoid co-mingling grains such as barley, spring wheat and durum, which have different protein qualities, because of heavy discounts. 

For corn and soybeans, record supplies have outpaced storage capacity in many states, pushing corn below $3 in Iowa and Illinois and below $1.80 in some parts of North Dakota. 

Not all states face storage problems, though. A Top Producer analysis of 13 states in and around the Corn Belt shows that while eight will have a storage deficit factoring in old crop and estimated 2014 production, states such as Kansas will have a net storage surplus.

Overall, factoring in old and new crops, the U.S. will have a 1-billion-bushel grain storage surplus this year.

"You can look at that extra and ask, 'What's the problem?,' but storage isn't always where it's needed," explains Darrel Good, University of Illinois ag economist. "But the industry is pretty adaptable. We'll be able to handle it. Supply gets used up pretty fast." 

Nonetheless, this year's big crops will "test the limits of storage," adds Cory Walters, University of Nebraska ag economist. Many farmers added storage systems in the recent past, but even those heavy investments might leave producers wanting this year. 

On a positive note, severe harvest bottlenecks and wide basis are likely to be short-lived, explains Chad Hart, ag economist at Iowa State University. Over the next two months, he thinks the record harvest will move into export channels, ethanol plants and livestock facilities. Once that happens, wide basis will begin to narrow.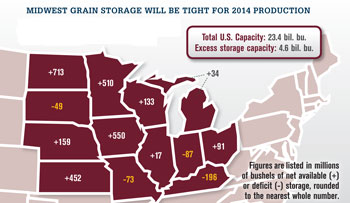 Several states in the Corn Belt will have a grain storage deficit this year based solely on 2014 corn, soybean and sorghum production and existing bin capacity.
---
Old Crop Key to Bin Dilemma
The following three states illustrate how old-crop stocks will impact available storage in grain bins this fall:
Illinois nearly zeros out when factoring in existing storage capacity as well as corn and soybean production for 2014. Both figures come in at just under 3 billion bushels. Yet factoring in old-crop corn, soybean and wheat stocks makes Illinois deficit by 164 million bushels.
Factoring in old crop and 2014 production, Iowa's surplus storage of 550 million bushels shrinks to 260 million.
North Dakota's surplus of 713 million bushels is cut by 426 million factoring in existing grain stocks including 2014 wheat, barley and oats. It vanishes almost entirely when factoring in the nearly 10 crops the state grows.