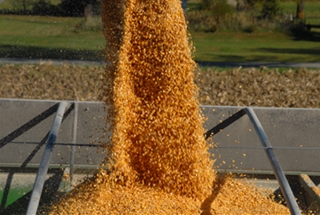 Follow these tips to increase shelf life for corn and soybeans
The potential for record corn and soybean crops has widened basis and pressured prices down. As a result, many farmers plan to store this year's crops until prices gain strength. While storage is a powerful marketing tool, farmers must be prepared to care for and manage stored grain to reap the benefit. 

"Seeing impressive numbers on a yield monitor is satisfying, but the job isn't really done until grain has passed grade at the elevator and is sold," says Sam McNeill, University of Kentucky Extension agricultural engineer. "The diligence spent scouting fields during the growing season should transfer over to managing grain during storage."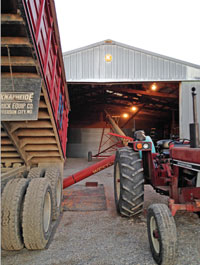 Regularly test the moisture level of grain held in temporary storage to monitor its quality.
Cool summer temperatures are partly responsible for the potentially record yields, says Bill Wiebold, University of Missouri Extension agronomist. But it also slowed grain maturity, which means corn was harvested at higher moistures than normal. 

"The two biggest enemies of grain storage are moisture and temperature," Wiebold says. "They increase the growth and activity of grain storage pests, especially fungi." 

Cool grain and reduce its moisture level to extend its storage life. Safe year-round storage moisture is 13% for corn and 12% for soybeans, Wiebold explains.

"This low moisture is necessary to store grain through the hot and humid summer months," he adds. "If grain temperature is cool (less than 50°F), then grain can be stored at higher moistures."

When sizing up your grain that will be stored, McNeill says  you should prioritize it by what will keep its quality the longest. "Clean, undamaged grain is best for long-term storage," he says.
Once grain is in the bin, be diligent about monitoring it for temperature, moisture, insects and mold. "Low grain prices increase the need for safe and long-term storage," Wiebold says. "Attention to details is important, as seeds are living organisms and understanding how they react with potential enemies and weather conditions will help maintain grain quality and value." 
---
How to Successfully Manage Grain in Temporary Storage
A bumper crop has maxed out grain bins in some areas. Temporary storage methods, such as bin rings in a shed, grain bags and piling grain on the ground, require different management techniques. Klein Ileleji, Purdue University grain post-harvest technology expert, and Sam McNeill, University of Kentucky 
Extension, provide these tips. 
Grain in temporary storage exposed to the elements should be the last structure filled and the first one emptied (Remember: LIFO—last in first out).
Tidy up the site's area after any grain spills and remove brush to maintain a clean perimeter that doesn't attract hungry rodents and serve as a hiding spot for critters. 
Make sure the crop is cool and dry (15% moisture content or lower for corn and 13% moisture content or lower for soybeans) before storing it.
Most temporary storage options are not ventilated, which means there's no way to circulate air inside to prevent moisture buildup in the grain. Regularly test the grain's moisture level, especially after severe rainfall or snow. For storage bags, cut a small hole in the cover, extract the sample and reseal the bag using special adhesive tape for bag silos.