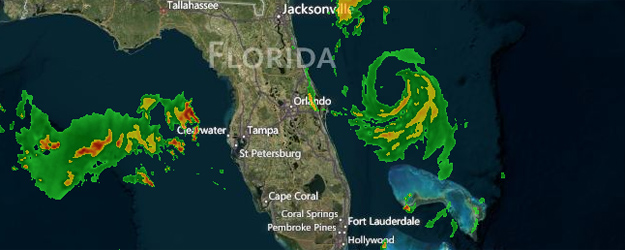 Tropical Storm Arthur—centered about 100 miles east-northeast of Cape Canaveral, Florida, is intensifying and drifting northward. Further strengthening of Arthur can be expected, and the storm may be a hurricane when it grazes North Carolina's Outer Banks on the 4th of July. Arthur's agricultural impacts are likely to be limited to the Mid-Atlantic coastal plain, but coastal impacts may include heavy rain, high winds, and beach erosion.
Watch AgDay's weather forecast for July 2:
Meanwhile, rainfall totals associated with a cold front could reach 1 to 2 inches across the Gulf and Atlantic Coast States, with higher amounts possible along the Atlantic Seaboard due to interaction with Arthur.
During the Independence Day weekend, generally cool weather will cover the Midwest, but heat will return to portions of the Plains. Hot weather will also persist in much of the West, although monsoon showers should begin to develop in the Four Corners States. Elsewhere, showers will return to parts of the northern Plains and upper Midwest during the weekend.
The National Weather Service 6- to 10-day outlook for July 7-11 calls for above-normal temperatures in the eastern and western U.S., while cooler-than-normal conditions will prevail across the nation's mid-section. Meanwhile, near- to above-normal rainfall across the majority of the U.S. will contrast with drier-than-normal weather in the Northwest.

Regional Weather Outlooks
In the West, very hot weather persists, except in the central and southern Rockies. Western irrigation demands remain high, and there is an elevated risk of wildfires in parts of the Great Basin and Intermountain West.
On the Plains, cooler-than-normal weather prevails. Across the southern Plains, showers are slowing late-season winter wheat harvesting but benefiting summer crops and further easing long-term drought. On June 29, topsoil moisture was 45% very short to short in Texas, along with 37% in Oklahoma and 21% in Kansas.
In the Corn Belt, much cooler weather prevails in the wake of a cold front's passage, while a few showers linger across the Great Lakes region. This morning's temperatures dipped below 50°F in the northwestern Corn Belt.
In the South, Tropical Storm Arthur—centered about 100 miles east-northeast of Cape Canaveral, Florida, is strengthening and drifting northward. Showers associated with Arthur are grazing the coastal areas of east-central Florida. Elsewhere in the South, hot, humid weather prevails in advance of a cold front, favoring a rapid pace of crop development and allowing winter wheat harvesting and other fieldwork to proceed.