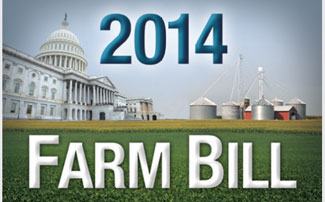 By Stephanie Mercier
Congress has been providing financial support to crop farmers for more than 80 years through farm bills. Using an assortment of policy tools in their toolbox, crop farmers could respond to disruptions in market or crop conditions.

Since the first farm bill in 1933, Congress has been tinkering with that policy toolbox, usually adding to 
existing programs when problems emerged rather than starting from scratch. Even in the 1996 farm bill, widely regarded by policy analysts as ground-breaking farm legislation, Congress chose to retain the marketing assistance loan program while jettisoning the target price, deficiency payment and Area Revenue Protection (ARP) portions.  
 
In recent years, farmers in different regions have developed diverse views of the types of programs that work best for them. In the Midwest, grain and oilseed farmers started to rely most heavily on the federal crop insurance program. They were seeking a commodity program to complement their crop insurance by protecting them against  shallow yet frequent revenue losses not covered by their insurance deductible. In the South, rice and peanut producers valued programs that protected them against low crop prices, such as marketing loans and countercyclical payments (CCP), although they wanted the fixed CCP target price increased to enhance protection.  

In the 2014 farm bill, the political imperative that every farmer should have access to the same policy tools was discarded in favor of giving them a choice between programs that reflect two very different policy directions. Crop farmers will soon have to decide between enrolling in a new county- or farm-level shallow loss revenue policy called Agricultural Risk Coverage (ARC) or a revamped price-based program with higher support levels called Price Loss Coverage (PLC). 
While recent commodity titles have required farmers to make some choices, the new farm bill presents a very complex set of decisions. On top of that, the farmer's decision will remain in effect for the next five years. 

At the passage of the 2014 farm bill, crop prices were high enough that it seemed unlikely significant payments would be made under either program for the 2014/15 crop year. Most Midwest farmers were expected to select ARC, since it reflected their policy preferences, while the majority of Southern farmers would choose PLC.  
As farmers well know, crop prices have tanked, and deciding between ARC and PLC isn't as clear cut as it was eight months ago.

By the March 31 sign-up deadline, the prices that determine payment levels for the 2014/15 crops will be largely known. Choosing between PLC and ARC will primarily depend on a farmer's perception of how crop prices will behave for the next four years. If farmers lean toward PLC because the current price environment depresses their expectations, it might not render as clear of a test of the two approaches to policy as envisioned.  

However, if one farmer opts for ARC and the other chooses PLC, neighboring farmers with similar crop mixes could see very different farm payment outcomes in a given year. That scenario could make for an 
uncomfortable situation for anyone who advised the farmers on those choices and for the members of Congress whose support for the farm bill made those choices necessary. 

Avoiding the potential for political backlash was one of the reasons why those who crafted previous farm bills embraced the "one-size-fits-all" approach so widely disdained during the 2014 farm bill debate. Depending on what happens, Congress might wish to revisit this issue of "farmer choice" for the next farm bill.