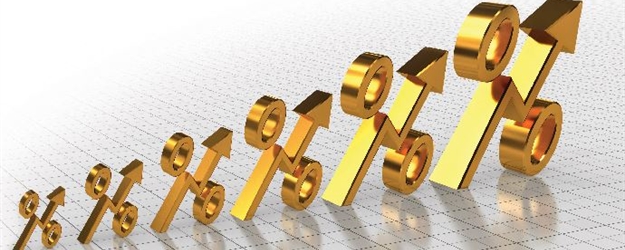 Interest rates have been so low for so long that unlike the past, today they are only a minor cost variable. Don't expect historic lows since 2008 to be the future, however. In the months ahead, interest rates are heading higher and for two reasons. First, virtually everyone expects the Federal Reserve Board to begin raising interest rates no later than 2015. Recent statements by Fed chief Janet Yellen have suggested as much. Second, beginning this quarter, crop farmers are expected to increase borrowings to bridge the gap left by crop prices that are well below breakeven.

Still, the interest rate story largely remains a sanguine one, at least in the short term. "Operating loans won't likely increase by more than a half percent in 2015," says Bob Campbell, senior vice president, Farm Credit Services of America. For 2016 and beyond, he expects more of a normal federal funds rates of 4%. Today it's hovering at zero. The intermediate term rate hike he anticipates still would leave interest rates well below double-digits and just half the levels experienced by farmers who lived through the 1980s.

Because low rates are still available, Campbell thinks this is a good time for producers to renegotiate loan packages, replacing short-term debt to longer term fixed rates, extending loans and terms. Doing so effectively cuts breakeven costs by reducing annual principal and interest payments.

"Producers have a window of time to consider these kinds of options as interest rates remain favorable. Twelve to 18 months from now, it could be a different story," Campbell says.

In its latest quarterly report, the Chicago Fed reports that farm operating loan interest rates actually edged even lower in the second quarter, while real estate rates were steady. All rates are under 5% and in real terms (adjusting for inflation), the lowest ever.

More good news for producers needing to borrow money is that banks have plenty of money to lend, with loan-to-deposit ratios below what they'd like them to be. Bankers want to make more loans and face a highly competitive lending environment. For producers with their financial houses in order, that means there are plenty of lenders who want their business.

At the same time, though, banks will be careful about whom they lend to and regulators looking over their shoulders will be insisting they do.

Most Will Get Credit
The vast majority of borrowers will face no problem securing necessary credit, says Nate Franzen, president, agribusiness division, First Dakota National Bank. "Agriculture is cyclical. Customers may well be operating at a loss for a couple of years," he says.

Overall, First Dakota will not reduce the amount of money available to farmers nor will it change its lending standards. Even if they are operating at a loss, "we'll stick with well managed farms," he says. That does not mean all farmers will be extended credit, however. Highly leveraged farms lacking a willingness to make changes may have a tougher time qualifying for loans.

"If farmers have used up their working capital for tax reasons, they are more vulnerable," he says. In these cases, farmers may need to sell assets—whether land or equipment—to put themselves in a position to weather low crop prices, Franzen says. First Dakota is placing more emphasis on cash flows and is proactive in discussing options with producers.

While interest rates are certain to go up, not all producers will receive the same rate. Producers using precision agriculture technology and big data and who can show a high level of financial transparency may qualify for lower rates, says Mark Greenwood, senior vice president, AgStar Financial Services. "You get better rates if you have a stronger balance sheet," he adds.

While present crop prices are below breakeven, some bankers are not concerned about 2014, but rather 2015 and beyond should crop prices remain low. Some crop insurance payments in 2014 may be close to $200 acre on corn depending on the type of insurance products purchased, says Joe Kessie, senior vice president, Lake City Bank, Warsaw, Ind. Most of his farm customers have strong working capital positions and good balance sheets.

Even though typical corn breakevens for his customers is $4.75 to $5—factoring in a return to land and operators, he is not very concerned about 2014, but rather 2015. Producers still have time to position themselves for that and many already have. "Most farmers have strong equity and working capital," he says.